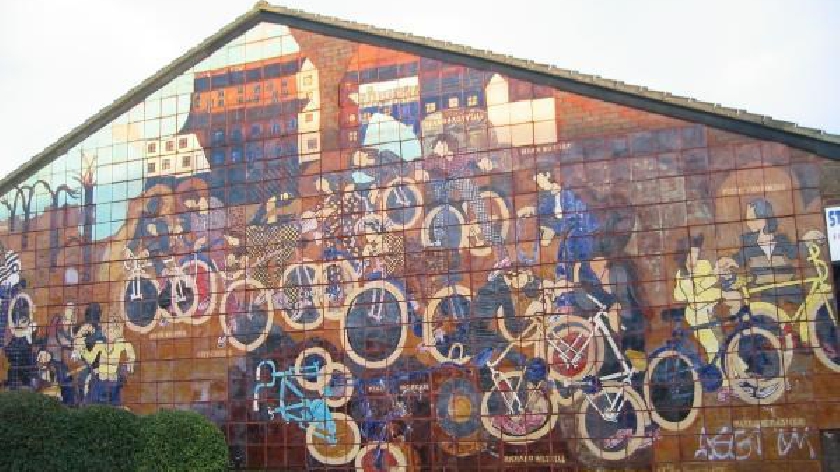 Builders agreed to stop work on the site of a new Aldi supermarket after the council was tipped off by concerned campaigners.
The site, at Purbeck, is a sensitive one because a much-loved mural is on the wall of one of the buildings earmarked for demolition to make way for the new store.
Made up of hundreds of tiles, the bicycle mural was created in the 1970s and depicts students at Stantonbury School.
Aldi has been given permission to build the new supermarket, but before it can do so it has to get approval from Milton Keynes Council over what happens to the mural.
The company is keen to get the store built and opened in time for Christmas, and there is support for it in Stantonbury.
The supermarket giant has invested in specialists who are planning to take the tiles down and store them for re-use.
But the details of this have not yet been given the green light by the development control committee.
Tim Skelton, who chairs the MK Forum, told a meeting of the development control committee last week that one of his members had seen building work taking place on the site.
"The planning consent makes it clear that work cannot start on site until a number of conditions had been satisfied," he said.
"At the moment, as far as we can tell, bicycle wall is not protected and is therefore at risk of damage," he said in a question to the online meeting of the committee on Thursday (May 7).
"In any event, work should not be proceeding until the appropriate conditions have been satisfied."
The council's development management manager, Sarah Hine, said its enforcement officer visited the site earlier on the same day, May 7, to investigate.
They asked for all work to cease, which was agreed by the manager of the site, she added.
"During the site inspection there were concerns raised regarding the extent and scope of the works," she said.
Work on the site had included erecting site hoarding, stripping out a shop unit, and removing vegetation near the wall.
The meeting was told that Aldi's planning agent has been "advised of the events of the May 7 site inspection" and asked to provide clarification.
"Once this investigation has been completed consideration into the
appropriate action will be given," she said.
The council says it will "continue to monitor the works on site and will consider the use of temporary site notice if works restart before these matters are resolved."
Planners confirmed last week that the planning conditions concerning the future of the wall would be discussed by the development control committee at a future meeting.