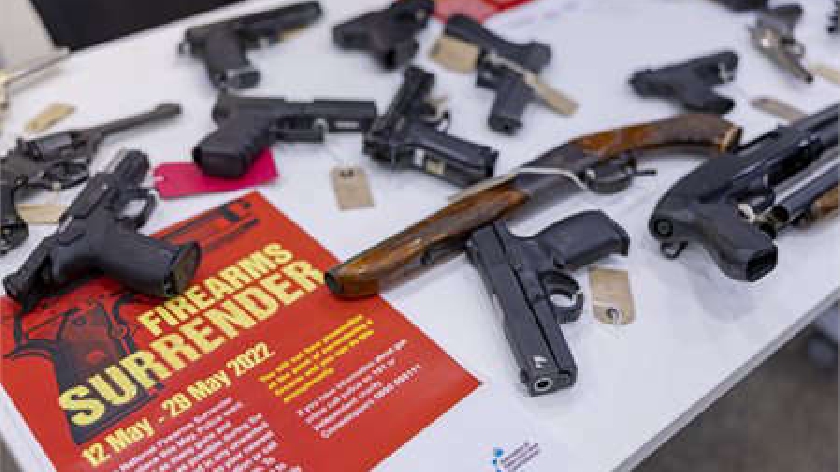 181 firearms and ammunition items in total have been handed into Thames Valley Police during a firearms surrender.
The force appealed to the public to hand in any unwanted guns or ammunition between May 12 and 29, in the campaign supported by police forces in England and Wales.
Across the Thames Valley, 181 items were handed in, which included 48 firearms as well as ammunition, as part of the campaign coordinated by The National Ballistics Intelligence Service.
The surrender allowed people to hand in firearms and ammunition by contacting the police.
Head of Firearms at Thames Valley Police, Superintendent Gavin Wong said: "Thank you to everyone who handed in any firearms or ammunition as part of the firearms surrender.
"This means that there are now 181 fewer firearms and items of ammunition that were either unwanted or held in ignorance of their illegality, which could have easily fallen into the hands of criminals.
"Thames Valley Police's fight against gun crime is stronger than ever, as we work with our partners and local communities to safeguard, educate and intervene at the earliest opportunity.
"We use various overt and covert tactics to locate weapons that have fallen into the wrong hands, but we also need the public's help to ensure unwanted, unlicensed or illegal firearms are handed in.
"Thankfully, firearms crime remains low across the country, and the national surrender prevents firearms from falling into the pool of criminally used weapons.
"Although the firearms surrender has now concluded, anyone who finds a firearm or is uncertain about the lawful possession of a firearm, please call police on 101, or 999 in an emergency.
"Alternatively, you can contact independent charity Crimestoppers anonymously via its website or by calling 0800 555 111."
Thames Valley Police have also been hosting a series of pop-up knife amnesties in Milton Keynes over the past few months.
A knife amnesty bin allows people who own knives or weapons to voluntarily dispose of them in a safe and legal way.
The aims of the operation, which is taking place across Thames Valley, are to remove dangerous weapons from the streets, reduce knife crime and raise awareness of the dangers and consequences of carrying a knife.
A permanent knife amnesty bin can be found at Milton Keynes police station.