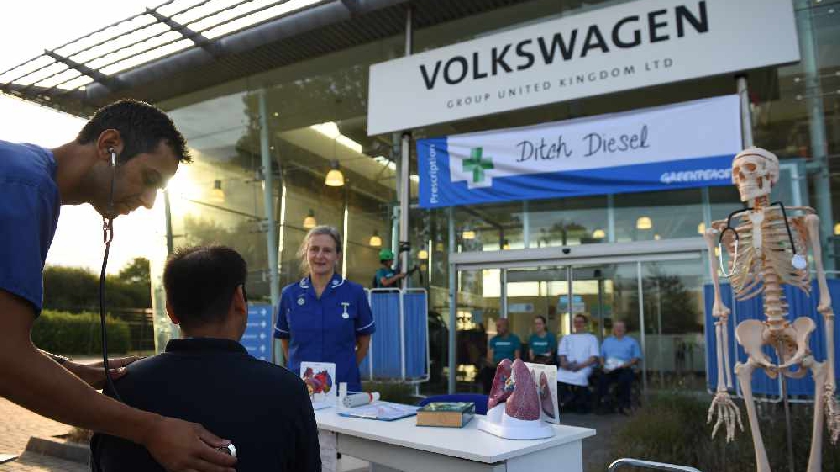 Greenpeace air pollution campaigners and medical professionals have blocked more than 800 Volkswagen staff from entering the company's head office in Milton Keynes this morning.
Arriving at 7am, they barricaded the entrances with sick bay furniture and set up a diesel pollution clinic outside to offer advice and health checks to staff and members of the public.
Greenpeace is demanding Volkswagen commit to stop producing diesel cars and go 100% electric.
Mel Evans, clean air campaigner at Greenpeace, says, "As the UK's biggest seller of diesel cars, Volkswagen is complicit in an air pollution crisis that's filling up emergency departments and GP surgeries.
Evans continues, "Volkswagen sold us a lie about diesel being clean. Its diesel addiction is seriously harming people's health.
"Volkswagen won't meet with us and won't listen. So today we've brought the truth about diesel to its doorstep.
"Volkswagen must face up to its responsibility for deadly air pollution and commit to end diesel production now."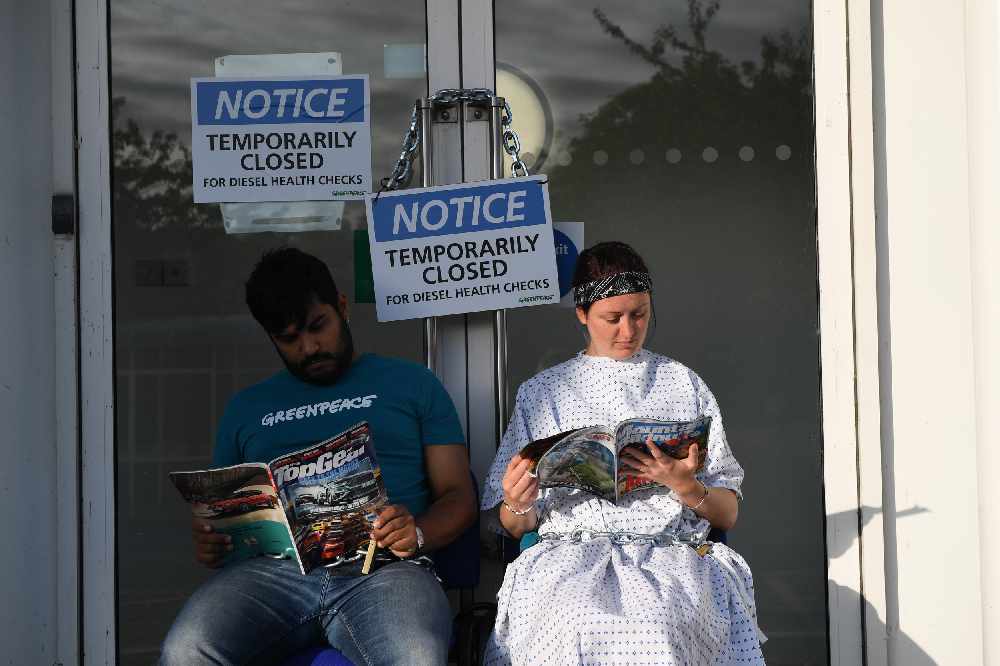 Greenpeace claim that Volkswagen sells the most diesel cars in the UK; stating one in five new diesel cars are VW Group.
According to a Greenpeace poll, more than two-thirds of people believe car companies, like Volkswagen, should be held to account for toxic diesel pollution and be made to contribute to a Clean Air Fund.
Aarash Saleh, 33, Doctor in respiratory medicine from Manchester, working in London, who is at the protest today, says, "Diesel pollution is causing horrendous suffering across the UK and storing up a lifetime of troubled health for our kids. If you could see it, diesel would be banned tomorrow."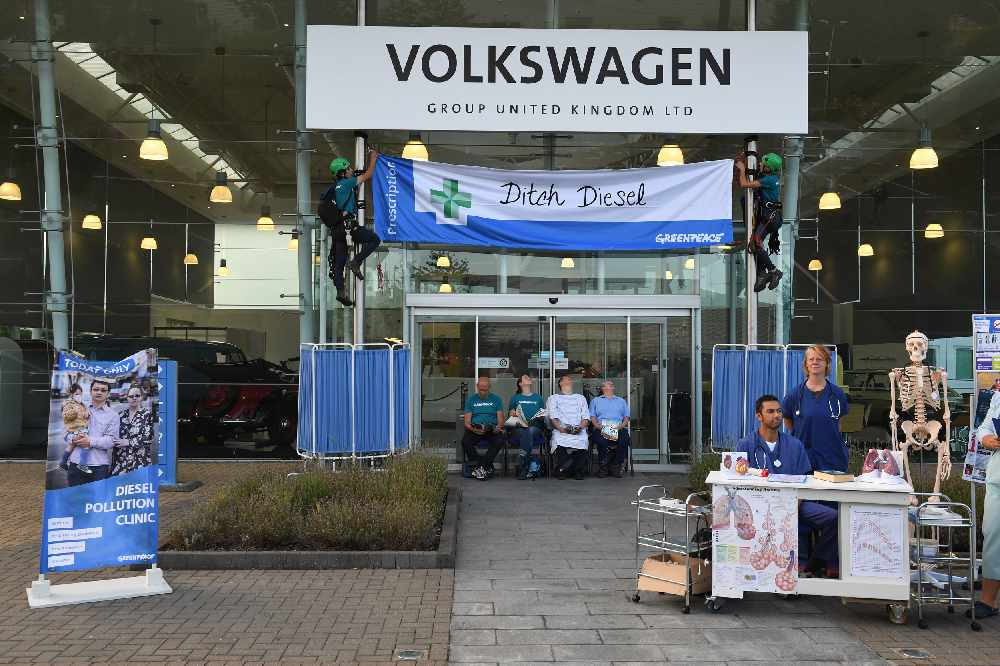 The 'peaceful' blockade at VW's UK head office comes as they claim concerns are growing about the health impacts of air pollution.
Activists say that a recent study found an "absolutely clear" link between episodes of high air pollution and spikes in hospital admissions and visit to GPs.
They add that the impact of air pollution is particularly acute for children. High exposure to polluted air at a young age can cause chronic health problems that last a lifetime, with research showing negative effects for lung function, respiratory issues like asthma and even stunted lung growth.
According to the activists, air pollution from cars and vans costs £6 billion in damage to health each year in the UK; equivalent to the entire budget of NHS Wales.
Meanwhile they also add that levels of harmful nitrogen dioxide air pollution in the UK have broken legal limits every year since 2010 – and diesel vehicles are responsible for 90% of toxic NOx coming from roads.
In September 2017, Greenpeace launched the campaign targeting VW's continued promotion of polluting diesel by blocking a major import route bringing Volkswagen diesel cars into the UK.
VW's global competitors Toyota, Nissan, Volvo and Fiat-Chrysler are already reported to be ending diesel production in Europe.
Volkswagen was allegedly caught cheating on emissions tests by using a defeat device designed to reduce emissions in test conditions, but has faced no civil or criminal charges in the UK.
Greenpeace claim that more than 1.2 million vehicles sold in the UK were fitted with this device by VW, designed to mislead the public and push cars which pump out dangerous levels of air pollution onto UK roads.
Volkswagen is now facing the largest group litigation action in UK history, brought by British consumers seeking compensation over the Dieselgate emissions scandal. Affected consumers are still able to join the suit before the 26 October deadline.
Volkswagen have shown their commitment to electric cars and are currently part of the Electric Vehicle Experience Centre in Milton Keynes - which provides free education and advice about electric and plug-in vehicles. MKFM is currently taking part in an electric car trial with the EV Experience Centre. You can listen to Greg's Electric Drive Time on MKFM weekdays 4-7pm and follow his experience trialling an electric car here.
Greenpeace said on Monday afternoon that Volkswagen had agreed to meet following the blockade at their head office.