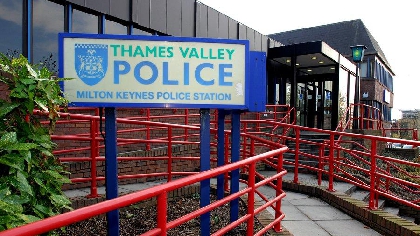 Thames Valley Police is appealing for witnesses following an incident of exposure in Milton Keynes yesterday afternoon.
At around 2.30pm yesterday (8/4) the victims two girls aged 12 and 13, were playing in a park near Butterfield Close, Woolstone, when they noticed a man looking at them as he cycled past.
A family entered the park and man left. Shortly after the family left the park, the man returned and approached the girls before he exposed himself and committed an inappropriate act. The girls called police and the man cycled away in the direction of Springfield near the canal.
The offender is white, aged in his late forties to early fifties, approximately 5ft 10ins, chubby with grey balding hair and had a round face. He was wearing baggy light blue jeans, a plain white t-shirt and a blue jacket.
He was riding a blue and white mountain bike.
Investigating officer PC Joseph Wiffen, based at Milton Keynes police station, said: "Officers are investigating and have been carrying out patrols in the area to identify and locate the offender."
"The exposure happened near a residential estate on a sunny day and there may have been people in the area who witnessed what happened or who saw someone acting suspiciously. I am keen to speak to anyone who has any information about this incident."
"A family had been to the park shortly before the man and may have seen the offender so I would urge that group to come forward and speak to police."
"While there was no physical contact by the man towards the girls, this has understandably left them upset and concerned."
You can contact Thames Valley Police on 101 or call Crimestoppers anonymously on 0800 555 111.