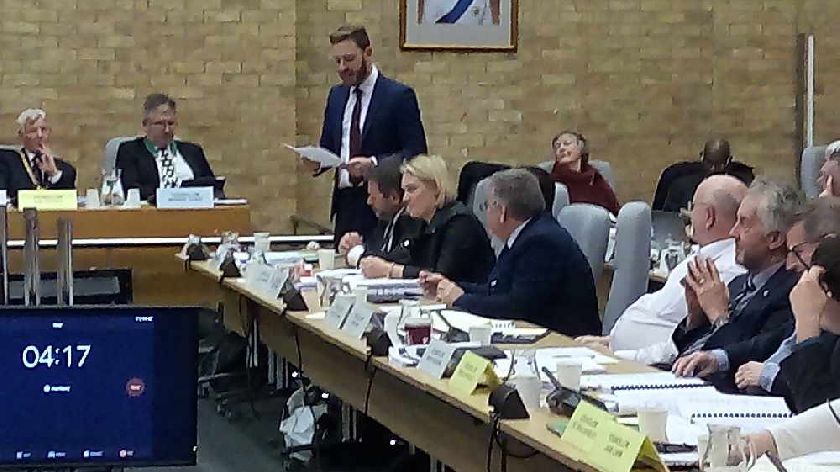 Residents in Milton Keynes are set to pay an average of £1,810.05 for council, police, and fire services for the year from April.
Final agreement on the largest part of the council tax came at a meeting of the full Milton Keynes Council on Wednesday (26/2).
The borough council's increase of 3.49 per cent was passed by 36 votes to 17 as the Lib Dems teamed up with the Labour administration to defeat opposition from the Conservatives.
MK Council's part of the total will mean a basic bill of £1,429.86 for the average Band D-rated property in the city.
Other items are piled in on top of that, including demands from the Buckingham and River Ouzel Internal Drainage Board and the Environment Agency.
The demands of the Conservative police and crime commissioner, at £216.28, and the Tory-controlled Buckinghamshire and Milton Keynes Fire Authority, at an average £65.85, are also added.
Total bills received in April will differ depending on which town and parish council area residents live in.
Totals range from £1,711.99 for a Band D property in the villages of Calverton and Warrington, to the £1,948.58 for services in inner city Woughton.
This year the council has had a £10 million one year windfall, at the same time as it has earmarked £6 million of cuts.
None of the parties argued that the council tax should be cut, so disagreements centred on how to spend it.
As well as millions for local planning, homelessness, climate change and local improvements, the Labour group accepted all the amendments from their Lib Dem partners, and even added a few from the Conservatives.
The Tory proposals accepted by Labour included £80,000 on a pedestrian crossing in Queensway, Bletchley.
Labour was quick to claim credit, sending out the first of two press releases at 10.41pm, after the Conservatives voted against the budget.
The only crack in the enhanced partnership between Labour and the Lib Dems came over Conservative amendment number five.
It called for a flood early warning system in Stoke Goldington, plus £95,000 for resurfacing a path in Newport Pagnell. Nine Lib Dems abstained as the Tory move was lost by 26 votes to 18.
Lib Dem leader Cllr Douglas McCall (Newport Pagnell South) said: "This is a well constructed budget made even better by Lib Dem amendments."
Those include £97,000 on clearing weeds, and £40,000 on replacing street name plates as well as a host of local projects.
Tory leader Cllr Alex Walker (Stantonbury) accused Labour of running an out of touch "gimmick" council, agreeing to "bonkers ideas" including "reckless housing plans" and putting grass on bus shelters.
He lost a proposal to scrap £75,000 for developing a growth strategy to 2050.
Council leader Cllr Pete Marland (Lab, Wolverton) spoke of a woman who had been sexually abused being helped to get a job after attendinga council course. Cllr Marland said it had also given her little boy a future.
"This is what this council does, and we have delivered for six years," he said. "Sometimes they (the Conservatives) should be ashamed of the things they say and do."