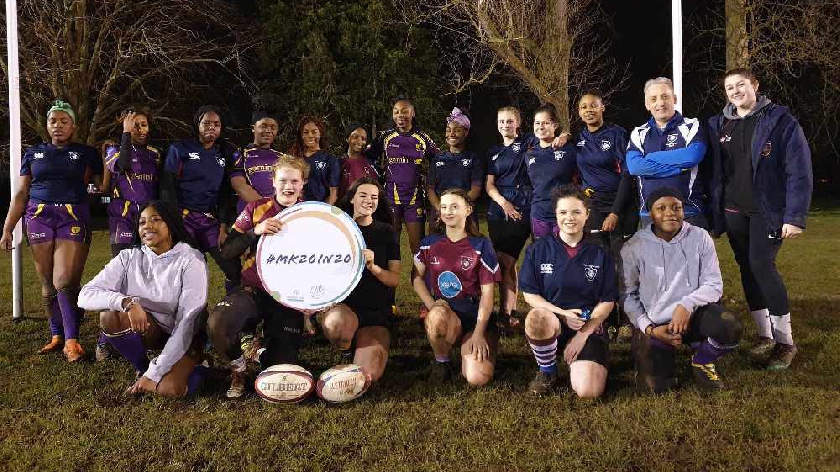 A rugby club in Milton Keynes has seen a ten-fold increase in female players since 2016, as it released figures to celebrate the city's year as a European City of Sport for 2020.
Bletchley Rugby Club had just three girls four years ago, as coaches struggled to provide engaging training sessions with limited numbers and resource.
Four years on the club has more than 40 girls playing for the side, some of who have had trials at professional clubs and play at county level.
"Originally I coached the boys but I saw that the girls were here and trying to get a game, so I thought I should help. The girls are just as good as the guys and I'm so proud of them," said Peter Byatt, Head Coach.
Rugby is being celebrated as the sport of the month for February as part of Milton Keynes' year as a European City of Sport. A different activity in MK will be chosen for each month throughout 2020, to highlight local successes and encourage more participants.
Paul Warren, President of Bletchley Rugby Club: "We encourage anybody and everybody in Milton Keynes to come and play rugby, because the core values are fantastic and it helps develop lots of skills for the future."
Milton Keynes was named a European City of Sport for 2020 by ACES Europe (the European Cities and Capitals of Sport Federation). MK Council is using the title to unlock more opportunities for investment into local sport and physical activity, and to support people to be active and healthy, and share their personal stories.
Incila, player at Bletchley Rugby Club said: "The coaches have given me a huge amount of support and development."
Celebrations continue in Milton Keynes as the city's year of sport rolls on. Hundreds of people and organisations have already made an #MK20in20 pledge to be more active in 2020 – find out more here: https://www.milton-keynes.gov.uk/leisure-and-community-activity-hub
Follow Active MK for the latest news from MK's year as European City of Sport: https://www.facebook.com/ActiveMKC/
Visit the Bletchley Rugby Club website to find out more: https://www.bletchleyrugby.com/