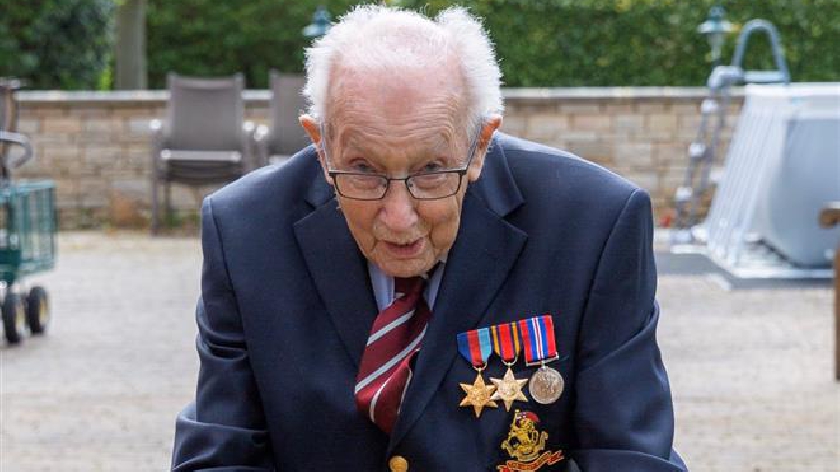 Downing Street have said that giving website JustGiving should 'reflect' on what to do about the £308,000 fee it will charge on donations to Colonel Tom Moore's NHS appeal.
Tom Moore, from Marston Moretaine close to Milton Keynes, caught the national headlines when he raised over £32 million for NHS charities by walking laps of his garden.
But now The Sun claims that giving website JustGiving, who host the donation page, will charge a fee of £308,000 for the appeal.
It is understood that the fee relates to the costs of claiming the 'Gift Aid' on donations which were made.
Gift Aid allows any donations from UK taxpayers to be increased by charities 'claiming back' the tax which was paid by employees on their salary.
Boris Johnson's spokesperson told MailOnline: "Thanks to the heroic efforts of Colonel Tom Moore, an incredible amount of money has been raised for hardworking NHS staff."
"The public, businesses and organisations have made extraordinary gestures towards our fantastic NHS and the voluntary sector."
"I'm sure that JustGiving will want to do the same where they possibly can."
"I understand that JustGiving's owners have made a £100,000 donation to Captain Tom already and I'm sure they will be reflecting on the Sun's story today."
A JustGiving spokesperson said: "Our Gift Aid service is not mandatory and any charity can opt out."
"Claiming back Gift Aid is complex, time consuming and expensive for charities and requires significant technological capabilities to do it at scale."
"Our expertise and technology means we are able to offer a much cheaper, quicker and more effective way for charities to claim Gift Aid than anyone else."