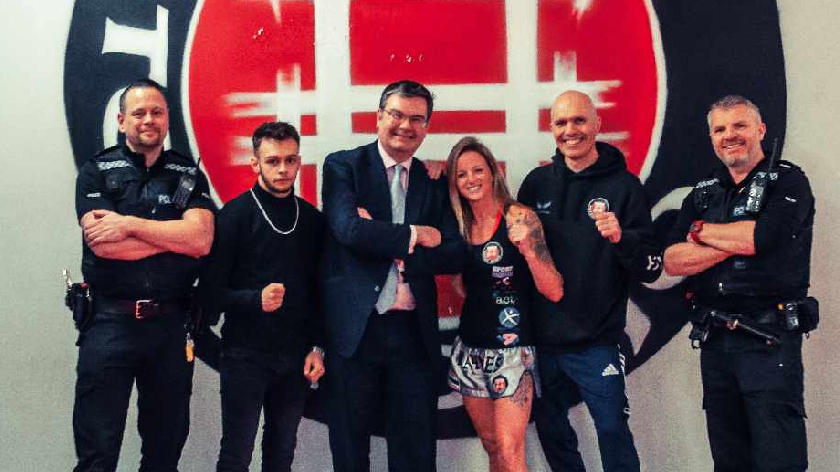 Kelly Haynes, a world-class professional Mixed Martial Arts fighter, will soon be part of a new exciting partnership between Thames Valley Police, Milton Keynes Council and several schools in Milton Keynes.
Boxing Clever is a brand-new scheme whereby secondary school children will be trained in the disciplines of Thai boxing and kick boxing by top local coaches like Kelly. Sam Greenfield, an amateur Kickboxing English and British title holder, will be supporting the other coaches. Both Kelly and Sam train at Total Dojo gym in Bletchley, where Kelly, amongst other things, provides self-defence training to women who have been domestically abused.
The after-school clubs will help those involved to develop positive skillsets and behaviours that are commonly associated with these disciplines. The aim is to help give young people confidence and the ability to positively influence their peers whilst helping to curb negative influences such as anti-social behaviour and gang culture.
Iain Stewart, Milton Keynes South MP, commented "I am delighted that Boxing Clever is being rolled-out as I am aware that a pilot implemented last year was successful in reducing anti-social behaviour and, in turn, improved community cohesion."
Kelly Haynes added: "I'm excited to start this project, which will hopefully help to reduce the gang culture and antisocial behaviour issues within our community. This will be another project I'm taking on, alongside being an ambassador for Fit4life, Sports Traider and MK ACT (women's domestic abuse intervention) charities. I'd like to say a big thank you to my coaches at Total Dojo in preparation for my big fight at the O2 Arena on 6th April. Finally, I'm forever grateful for the support from my sponsors - Wealth Dragons."