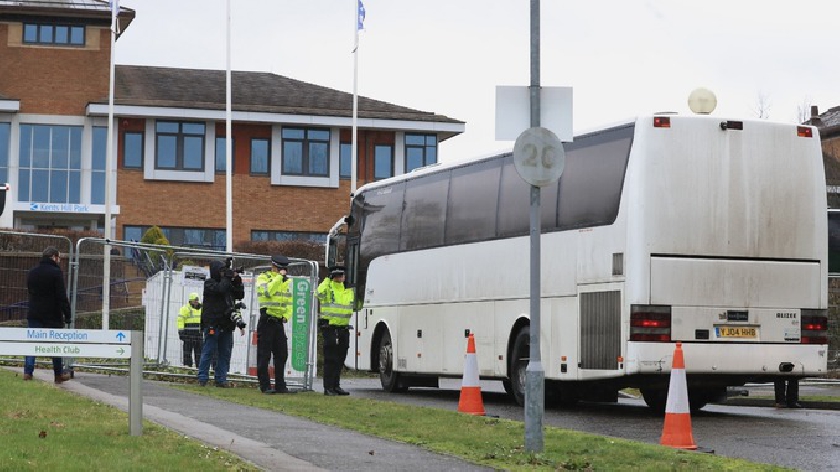 Press Association
MKFM can confirm that coaches carrying British nationals arrived at Kents Hill Park just after 10am this morning (9/2).
They will now be strictly quarantined for 14 days as a precautionary measure, after being evacuated from the coronavirus-hit city of Wuhan in China.
A plane carrying 105 British nationals and 95 European nationals, alongside 13 staff and medics landed at RAF Brize Norton in Oxfordshire at around 07:30.
They were then taken by coach to Kents Hill Park, a hotel and conference centre, in Kents Hill, Milton Keynes.
During the quarantine period, guests will have access to Netflix, magazines, books, baby equipment (including highchairs), children's toys and games, mobile phones and tablets for reading, games and internet.
According to the BBC, two Britons were refused permission to board the flight, carrying government staff, military medics, UK citizens and foreign nationals.
This is the third evacuation flight arriving in the UK thus far.
An official statement from the NHS reads: "During their time in Milton Keynes, the group will be regularly assessed by highly experienced healthcare professionals and will be provided with support to meet any social and emotional needs during their stay. All staff working at the facility will be wearing appropriate protective equipment at all times. Anyone showing symptoms of the novel coronavirus (2019-nCoV) will be assessed and if appropriate undergo testing for the virus.
"The local site has been chosen because it offers appropriate accommodation and other facilities for those coming back from Wuhan while they stay in Milton Keynes. It also allows their health to be regularly monitored and has the necessary medical facilities close at hand should they be required."
Some residents have shared their worries about the situation online. One person said: "Why did we not have a say in this? I'm sorry but if this spreads who do we speak to? I have family that have medical conditions I'm very concerned!"
NHS experts insist that there is no risk to the people of MK.
READ MORE: NHS release official update and FAQs on Milton Keynes coronavirus isolation facility