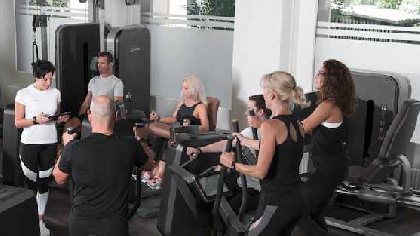 The 1Life centre in the eastern quarter of Milton Keynes has benefitted from an investment package of more than £180,000 this April, which opens today!
The investment by 1Life has created a brand-new Health & Wellbeing studio, which hosts a state of the art Milon Circle.
The Milon Circle is believed to be the most innovative concept in the health market and is currently used by over two million people across Europe alone. Based on the latest in sports science technology, the Milon equipment adapts automatically to each user and their individual needs to provide a total body workout specific to your goals in only 35 minutes each session! Delivering results with 15 times more fat burning that regular fitness training, each session is led by a qualified coach who will be on hand to offer support, guidance and advice. Milon is safe, personalised and health-orientated fitness solution ideal for who are tight for time, new to exercise, want to lose weight, recovering from injury or simply don't like normal gyms.
Sean Mitchell, 1Life Contract Manager for Milton Keynes said: "We are thrilled to receive the investment into this much-loved facility. The investment will bring a new service to the growing community which focuses on improving general health, strength, mobility as well as wellbeing. We are proud to be leading the way when it comes to health innovation and we can't wait to launch the Milon Circle to the community this May!"
The new Brooklands Health & Wellbeing Studio opens on Wednesday 2nd May 2018 and has a special opening offer of ZERO JOINING FEE & MONEY BACK GUARANTEE* for a limited time! Join us for the official launch on Monday 21st May and find out more information on their website: http://www.1Lifewellbeing.co.uk/studios/brooklands