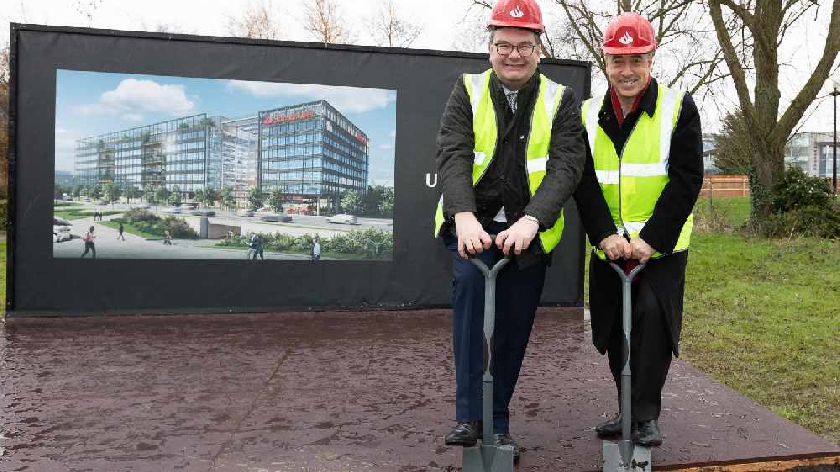 Santander has today (28/2) begun construction on its state-of-the-art new campus in Milton Keynes.
Chief Executive Nathan Bostock, alongside Iain Stewart MP for Milton Keynes South, took part in a ceremony at the new site.
The £150m office, known as Unity Place, will be home to over 6,000 employees and will bring together staff from the bank's existing local office buildings into one location.
Nathan Bostock, Chief Executive, Santander UK, said: "We're very excited to be starting work on Unity Place, a major investment in Milton Keynes, reflecting our long-term commitment to the local area. Milton Keynes is already one of the UK's leading technology centres and with a number of innovative education and training providers on our doorstep, we hope it will be a real magnet for technology talent.
"Once complete, the campus will be a state-of-the-art workplace which reflects our culture and our vision for the future. It will be a world-class home for Santander which both our colleagues and the local community can take pride in."
Iain Stewart, MP for Milton Keynes South, said: "This investment is a huge vote of confidence in MK and will keep us at the heart of technology and innovation. I look forward to working with Santander to see this exciting project delivered."
Planning permission for the new campus was granted by Milton Keynes Council last year following consultation with the Local Authority, employees and community groups.
Pete Marland, Leader of MK Council, said: "We're delighted that Santander's innovative plans are coming to life, which will see yet another major international business bring its central headquarters to Milton Keynes.
"The new HQ will complement our ambitious proposals for Central MK – including our world-class university MK:U, pioneering work and leisure spaces, and new affordable homes."
It is due to open by the Autumn of 2022 and follows Santander's recent £30m investment in MK:U, the UK's first university focused on digital skills, which is due to open a year later in 2023.