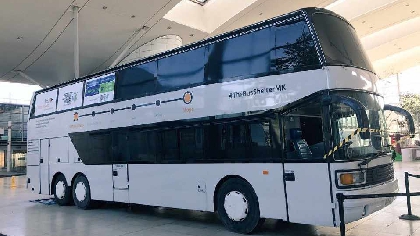 The Bus Shelter MK currently sits in Campbell Park but is soon to be replaced by a housing development.
The converted bus has room for 8 to sleep with a living area downstairs. It opened its doors a year ago and has been in Campbell Park since.
Over 30 rough sleepers have used the shelter since it opened.
Where the bus is currently positioned is about to become part of Campbell Park North housing development.
The shelter is run by a full-time manager and a team of dedicated volunteers.
It's not just the bus that they need room for though, there is also three portacabins to go with it.
Chair of Bus Shelter MK trustees, Pam Willams says, "Ideally we need to find somewhere in the next few months. It's a shame but hopefully we will find somewhere"
Pam says the biggest challenge is moving people into accommodation after the bus, "There is such a shortage of landlords willing to take people on benefits in MK," says Pam.
Each night of accommodation costs the charity £25. You can donate via https://www.thebussheltermk.org