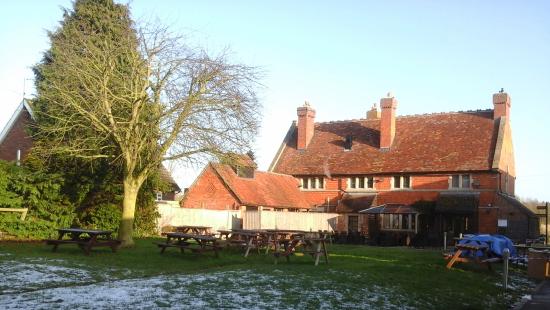 The woman suffered a heart attack during a wedding reception but a bad review was left on Tripadvisor.
Despite saving the life of a woman who suffered a heart attack during a wedding reception - a British pub still received a bad TripAdvisor review from a guest.
The Carrington Arms pub and hotel near Milton Keynes was hosting a wedding party when a young woman suddenly collapsed.
Thankfully, a barman quickly came to the rescue and managed to resuscitate her twice.
But, despite the quick thinking of the staff, a guest from the same wedding party left a negative review, complaining that breakfast was not included in the cost of their stay.
The review read, "Be aware of what you will be charged!"
"After a lovely family wedding I arranged payment before we left and was charged £77.00. I queried this with the manager who was very off-hand stating that it is £60.00 room only and breakfast is separate."
The owners were quick to respond, taking to Facebook to explain the situation to their clients.
"Unfortunately, even after the quick thinking of our staff on Saturday we are shocked to say that we have still received a 'terrible' review on Trip Advisor from a guest from the same wedding party.
"Rather than recognising and appreciating that our staff revived the life of one of their relatives that was resuscitated twice during this horrific ordeal, has instead raised a one star TripAdvisor & Facebook rating complaining that she had to pay for breakfasts the next day, even though when she had booked DIRECTLY through our website she had in fact selected the 'room only' rate herself."
Jenny Thomas, the woman who suffered the heart attack, posted a message on the pubs Facebook page to thank them.
"Your staff saved my life and I will be forever grateful of that. Not only did you give my mother her daughter alive, you gave a special, beautiful little girl her mummy still alive and I will be forever in debt to you."
TripAdvisor has come under fire many times for its handling of poor reviews with many in the hospitality industry claiming that they are difficult to remove and damaging to their trade.
Mr Dodman, general manager of The Carrington Arms told The Morning Advertiser that it was a 'constant battle' with review sites and added, "You have to take ratings with a pinch of salt."
Article written by The Independent