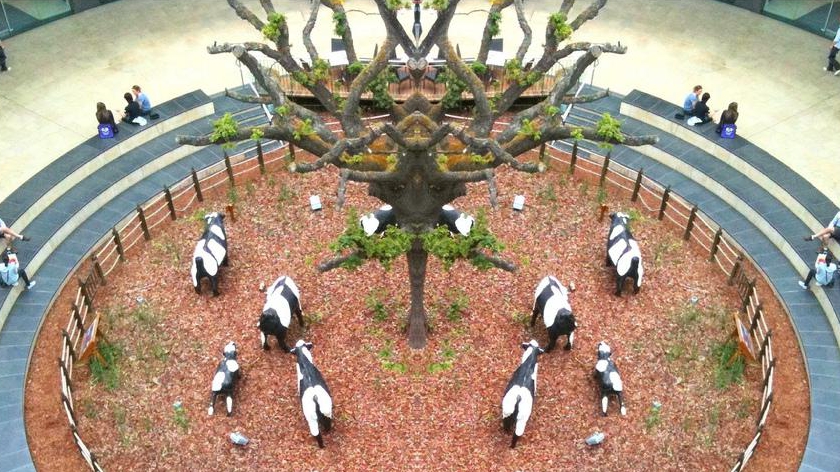 Image Credit: ianonline via Flickr, Creative Commons License [Attribution 2.0 Generic (CC BY 2.0)]
A sculpture made from the Midsummer Place oak tree will be revealed in Central Milton Keynes for the public to enjoy this autumn.
intu Milton Keynes, in partnership with Milton Keynes Council, has commissioned an internationally-respected artist to create a stunning piece of art from the original oak wood that will be installed in the city centre for all to enjoy for years to come.
Richard Bray was chosen over two other shortlisted artists for his 'social engagement' design concept that will see the wood take the form of 'new' tree.
A spiralling wooden sculpture will stand over five and a half metres tall and include a horizontal branch to hold a swing for children to play on.
Simply titled 'Midsummer Oak', it will be located in the outdoor area between Hollister and Gap and is anticipated to be installed by the autumn, when the second part of the project will commence.
Richard will hold a series of workshops with the public and schools to invite them to share their ideas on what could be carved into the wood – from fairies to faces, insects to words.
Currently, Richard is taking residence at the Milton Keynes Museum where work on the tree is taking place.
He said: "It's been a privilege to be able to rescue this tree as a public sculpture and I've been collecting people's memories of it at the museum."
"I'm looking forward to working with the schools during the autumn once the initial carving and assembly is complete and developing the sculpture as a place of imagination and play."
In 2015, when the Oak tree was confirmed to have died, intu Milton Keynes asked the public what they would like to happen to the oak to ensure its legacy remained part of the centre. Ideas included, 'a bench', 'a bandstand' and 'a piece of art'.
"A sculpture made from the original wood seemed the most respectful and significant option that everyone could enjoy," said Shelley Peppard, general manager at intu Milton Keynes.
She added: "We have ensured that the community is a big part of each step we have made to ensure this meaningful tree is remembered for future generations."
Midsummer Place shopping centre was purchased by intu Milton Keynes in 2013 and, at this time, the damage to the Oak was irreversible despite many efforts to save it.
Since then, intu has worked with The Parks Trust on a tree adoption programme that saw the Oak's saplings, grown from the Oak's acorns, planted near local schools to study.
With the ongoing support of The Parks Trust, the following six schools each have an oak tree planted near them: Falconhurst School, Eaglestone; Giles Brook Primary, Tattenhoe; St Mary and St Giles Junior, Stony Stratford; New Bradwell School; Olney Middle School and Olney Infant School.
Richard Bray will be sending updates on the progress of the project, which will be posted on the intu Milton Keynes website at www.intu.co.uk/miltonkeynes/news
Further details of the workshops will be announced in the coming months.