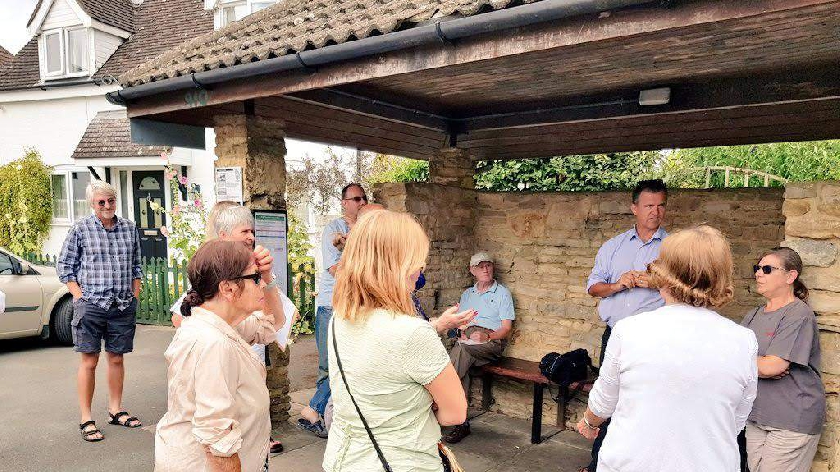 Milton Keynes North MP Mark Lancaster has warned that unplanned housing developments in Milton Keynes's rural villages are 'killing their character and crippling the infrastructure'.
The comments come following his annual mobile surgery where he visited all of the rural villages in his constituency, in which he says the main issue raised by residents and parish councils was the damage being done by unplanned and often speculative development applications being granted.
For example, the village of Hanslope has received a wave of new developments and when completed will see an increase in its population of at least 35%.
Mr Lancaster has also said that so-called 'accelerated growth' is causing concern. The village Moulsoe on the east of the M1 is at risk of seeing between 5,000 and 8,000 homes if Milton Keynes Council are successful in a bid to Government for funding a new bridge over the M1.
Mark Lancaster, MP for Milton Keynes North, said: "I have held my annual mobile surgery every year for the last 13 years and I've never had such a feeling of frustration from residents of our rural villages. They feel under attack by developers and let down by Milton Keynes Council."
"It would be desperately sad if we allowed the character of our rural villages to be eroded by unplanned developments. These communities are not anti-growth but they want to be able to have some control over what housing they take. They want affordable housing for their children and they want funding for schools, doctors surgeries and roads. Unplanned housing development risks all of that."
"The big failure has been getting developers to build the planning permissions they alreay have. Meaning the Council has failed to meet its 5 year land supply opening the gates to developers. I will be meeting with ministers to discuss an exemption of the 5 year land supply and I know local Conservative Councillors have called for an independent review of the Council's housing numbers. I would also call on all communities who don't have a neighbourhood plan to get one as soon as possible, they are a helpful layer of protection."
But Milton Keynes Council Leader Peter Marland says that Mr Lancaster voted for many of the laws himself.
Mr Marland said: "Milton Keynes Council has to abide by the law when making planning decisions."
"Sadly the planning legislation is totally weighted in favour of big developers. We've got thousands of planning permissions, but when developers don't build them, they can simply ask for more. Our planning committee has said "no," more than once now to speculative development on the edge of villages, but had the decision overturned on appeal. Developers can also avoid paying for new infrastructure on "viability," grounds and refuse to deliver affordable housing if it hits their profits."
"Mark Lancaster voted for these laws. Mark Lancaster continually votes in Parliament to give developers more powers. Only last week the government has introduced even more new rules that puts our villages at risk. Mark Lancaster says one thing to our villages and votes for developers in Parliament."
"MK Labour wants to build thousands of affordable homes but in a sustainable and planned way with proper infrastructure, Mark's voting record is a record of supporting the opposite of sustainable growth."