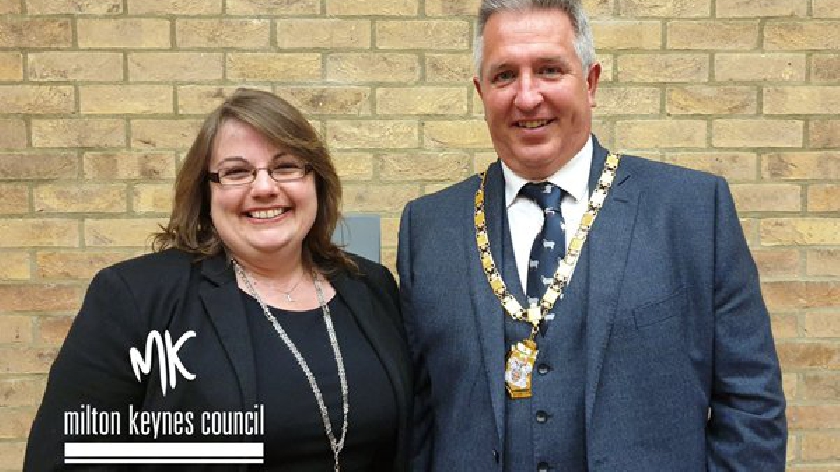 He was welcomed as the Mayor during Milton Keynes Council's first ever live-streamed meeting last night (20/5).
Cllr Geary, who was first elected to MKC in 2002 and served as Leader of the Council from 2011 to 2014, replaces outgoing Mayor Cllr Sam Crooks.
MK's new Mayor was born and raised on the family's farm in the Hanslope Parish, where he still lives and works with his wife and Mayoress Lisa, and teenage children Josh and Rebekah.
"I've lived in the Milton Keynes area for my entire life, and I'm immensely proud to be among the 8% of people to still be living here since the city's inception," said Mayor Geary.
"To be the Mayor of Milton Keynes is a huge honour and privilege. I've grown up with MK and I couldn't be prouder of what the borough and our community has managed to achieve in little more than 50 years."
Cllr Geary, a passionate supporter of MK Dons and Northampton Saints, played an active lead in the city's bid to host the Rugby World Cup at Stadium MK in 2015.
The new Mayor is also a Licensed Lay Minister in the Anglican Church and worships at St. Peter and St. Paul's Church in Olney – he'll be supported this year by the Revd. Andrew Prichard-Keens as Mayor's Chaplain.
He added: "I'm a passionate sporting fan, and during my year as Mayor and to celebrate our year as European City of Sport, I'll be training in an attempt to run in the Milton Keynes Marathon next summer."
The Mayor's chosen charities for this year are the MK Dons Sport and Education Trust and Thames Valley Air Ambulance.
People have since taken to social media to congratulate Andrew and his wife Lisa for becoming Mayor and Mayoress of Milton Keynes. One person said: "Congratulations Andrew, a challenging time to take on the Mayoral role but I am sure you will do a fabulous job."
Follow the Mayor on Milton Keynes on Facebook, Twitter and Instagram to stay up-to-date on his activities throughout the year.