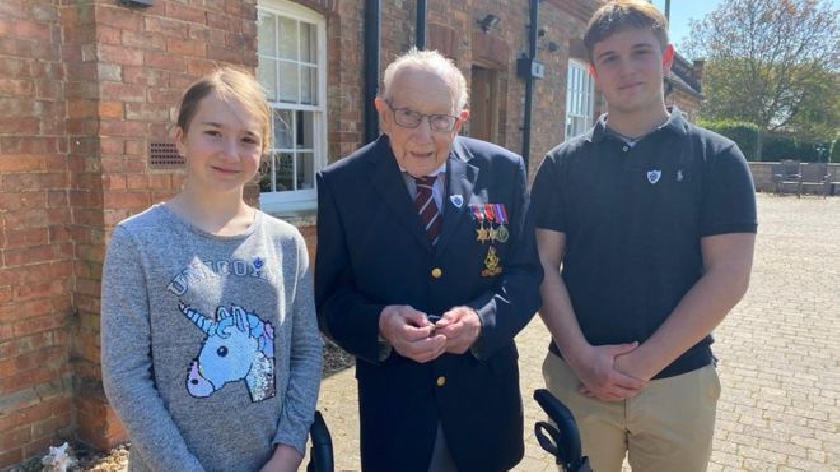 Photo: PA Media
The national hero from Marston Moretaine has joined the Queen and David Attenborough in being an owner of a special gold Blue Peter badge.
Only a small number of the prestigious badges are presented to inspirational people each year. They are reserved for those who act as role models for the nation's children, and 100-year-old Colonel Tom Moore is certainly no exception.
The WW2 veteran has raised nearly £33m for the NHS all from his birthday challenge to walk 100 lengths of his garden. He has since been promoted from Captain to honorary Colonel by the Queen, presented with a special Pride of Britain Award and now a gold blue peter badge, to name a few.
Blue Peter presenter Lindsey Russell asked his grandchildren to surprise him with the badge.
Speaking to Tom, she said: "We at Blue Peter think it is brilliant what you have achieved and what you have done over the past couple of weeks, the money and attention you have raised.
"As Benji so rightly put it, during this time of darkness you are such a beacon of light.
"On Blue Peter our highest accolade is the gold Blue Peter badge and it is something that the Queen, amongst a few others, have got, so on behalf of Blue Peter and our wonderful audience we would like to award you with our highest accolade."
Upon receiving the badge, he replied: "That's absolutely amazing, thank you very much. I am very proud to receive it because I have always been a great follower of Blue Peter - I remember the elephant, which is quite a few years ago now!"
Tomorrow, a special episode of Blue Peter featuring Colonel Tom Moore will be airing at 17:30.