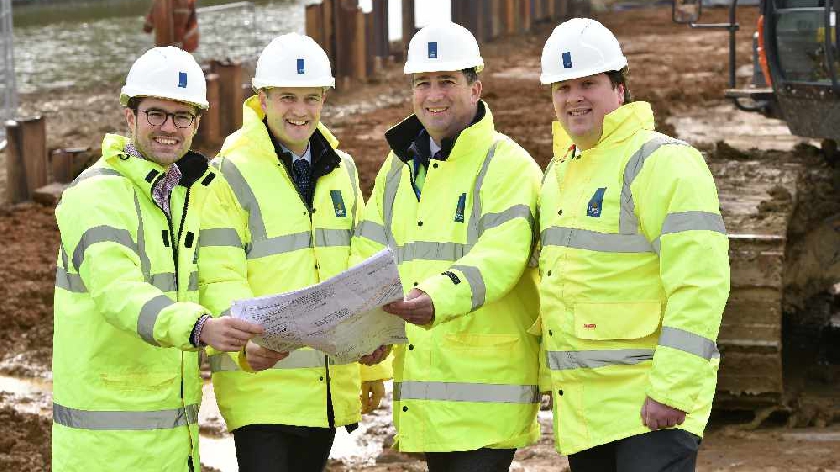 Plans include 383 new homes, of which 115 will be affordable, along with a range of other amenities including a new 111 berth marina
Councillor Rob Middleton and Matthew Green from Milton Keynes Development Partnership (MKDP) put on their hard hats and high-visibility jackets to get a close up view of how work is progressing at Crest Nicholson's exciting new Campbell Wharf development.
When finished the site will provide 383 new homes, of which 115 will be affordable, along with a range of other amenities including a new 111 berth marina, a canal-side pub, café, restaurant and a new footbridge linking the two sides of the canal.
Construction recently started on the land owned by MKDP to build new roads and sewers along with foundations for the first two buildings. The marina and bridge should be completed by Summer 2019 and the first residents are expected to move into the homes on Campbell Wharf by winter 2019.
Councillor Rob Middleton, Cabinet Member responsible for Resources and Innovation says, "As our city continues to grow, MKDP is committed to playing its part in helping to create well-designed, vibrant & affordable new communities in partnership with a range of local developers. As part of the Campbell Wharf development, MKDP and the developer Crest Nicholson will be creating 115 affordable new homes, a new 111 berth marina alongside the city's renowned Grand Union Canal, and importantly, will be making a contribution towards the cost of upgrading the infrastructure of our city centre.

I'd like to extend my thanks to the many local residents who took part in the public consultation. Encouragingly, support for the Campbell Wharf development was overwhelming. The new amenities and local facilities will be a valuable asset not just for Campbell Wharf's new residents but also for the existing communities in and around the city centre too."
Matthew Green, MKDP Property Development Director says, "It is great to see this exciting project getting underway. It has been a long process to get to this point but this flagship scheme will no doubt take shape rapidly from here, delivering a new community and amenities to Campbell Park, bringing activity and animation to the area."
Peter Cusdin, Development Director at Crest Nicholson says, "We were pleased to have the opportunity to showcase the works to key partners involved with this exciting development".