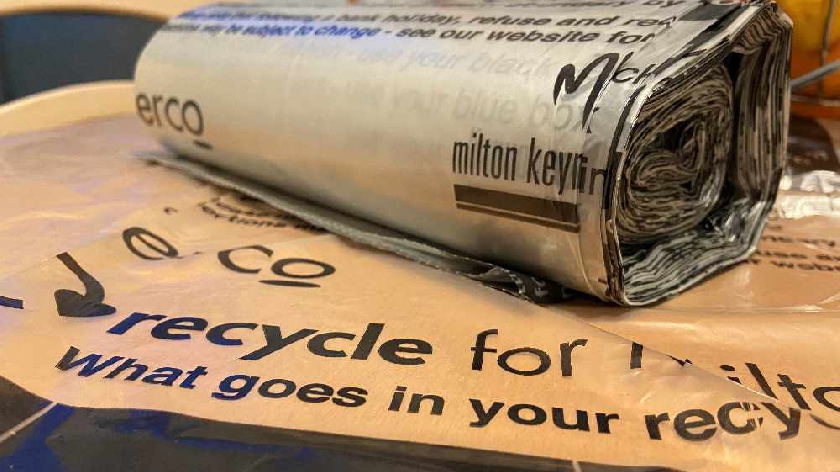 Copyright MKFM Limited 2021
Residents have spotted their recycling sacks being 'marked', which is something that has been done to help reduce recycling contamination.
People have taken to social media to report seeing markings on their clear recycling sacks, partnered with a letter that was sent through their door telling them that their recycling was contaminated.
Questions had been raised by residents about why this was happening, and whether people could be fined for the so-called contamination, and now the mystery has been solved.
This is all part of work that has been started by environmental charity Keep Britain Tidy, in partnership with Milton Keynes Council, to help teach people how to recycle correctly.
Keep Britain Tidy has kick-started the Contamination Reduction Programme, in response to an issue that costs local authorities millions of pounds a year.
The programme will see households in "pilot areas" be given "direct feedback" if they are contaminating their recycling.
There will also be marketing materials circulated online by the local authority showing people what/what not to do when filtering through their rubbish.
It has been reported that there will be no fines issued to those involved - the pilot wishes to educate and not punish.
Councillor Emily Darlington, Cabinet Member for Public Realm at Milton Keynes Council, said: "We know that more and more people in Milton Keynes are committed to recycling and are trying to get it right, but every week we see a lot of things in the clear recycling sacks that shouldn't be there, like dirty nappies, glass bottles, food waste, and old clothes.
"Dealing with things that cannot be recycled costs Milton Keynes Council hundreds of thousands pounds per year. That's money that could be better spent to help local people. We are very pleased to be working with Keep Britain Tidy to help residents recycle correctly."
Milton Keynes Council's year-long deal with Keep Britain Tidy has cost just over £97,000 and will last until November 2021.
But some councillors believe that this money should be spent elsewhere. Cllr Alex Walker, Leader of the Conservative Group, said: "This is an extremely heavy-handed and expensive way of dealing with contamination.
"Taxpayer's money should be used to tackle the record-level of fly-tipping in our city, not spent punishing residents who want to recycle their waste.
"The result will be that Labour's bin police will turn people off recycling while wasting money in the process."