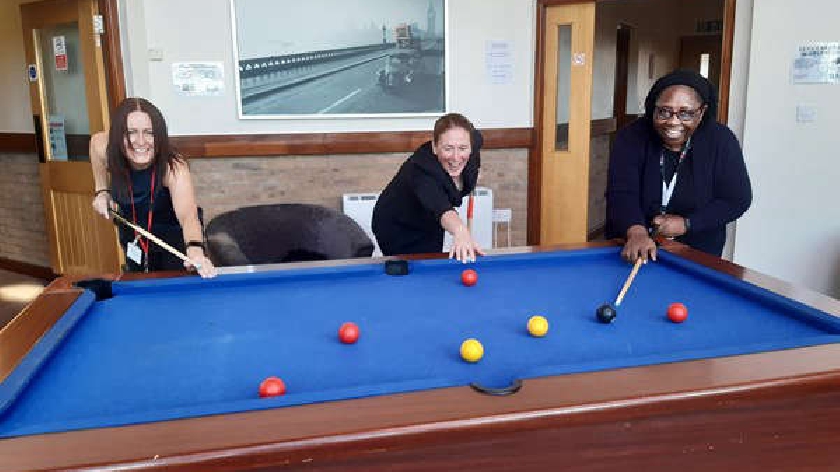 Councillor Emily Darlington (centre) with staff in the games room at Fishermead Lifehouse
Milton Keynes Council is extending funding for two in-demand services run by The Salvation Army.
Both Fishermead Lifehouse and Springfield House services have had an increase in demand over the past 12 months.
Milton Keynes Council has extended the funding for both services by two more years.
The Fishermead Lifehouse provides accommodation for single vulnerable adults and has 20 single bedrooms plus communal facilities such as kitchens, a games room, and outdoor space.
Springfield House supports young parents and their babies, of which many are single parents, with 16 places for them to stay.
The services have a strong track record for helping people; everyone who left the accommodation over the last year has found somewhere suitable to stay, either private or shared properties, moving in with family or moving to another specialist support service.
Cllr Emily Darlington, Cabinet Member for Adults, Housing and Healthy Communities, said: "We are pleased to be strengthening our partnership with these two essential services.
"The hostels at Springfield and Fishermead offer the kind of stability and care that is critical to improving the lives of vulnerable adults. Many homeless people have faced serious trauma in their lives and absolutely deserve the opportunity to change their future.
"Only by working together with our colleagues in social care, health, the police, and local support organisations, can we offer a truly supportive pathway for all vulnerable adults in Milton Keynes."
Regional manager for The Salvation Army, Nathan Slinn, said: "I am so pleased to continue our relationship with Milton Keynes Council in providing supported accommodation services to people experiencing homelessness.
"This extension to contract will allow us to continue our work in supporting individuals in Milton Keynes, journeying and celebrating with them as they make positive steps forward through their experiences and circumstances.
"The key thing to recognise is, that they have someone with them in their often, difficult and challenging circumstances, which can be life-changing."