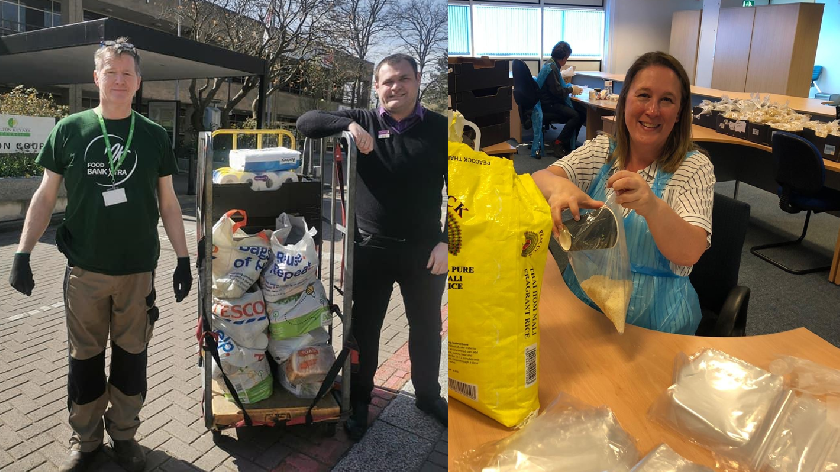 In normal times, councillors from across Milton Keynes would be battling for every last vote in the local elections.
But the coronavirus lockdown means these aren't normal times.
Elections to parish councils, the borough council, and for Thames Valley's police and crime commissioner, would have been held on Thursday (May 7). But they have been postponed for one year until May 2021.
Councillors, who would have been busy pushing leaflets through letterboxes and possibly doing down their opponents, have mostly suspended party political rows.
Many of them have been putting all hands on deck, joining council employees and volunteers to help the most vulnerable people.
The volunteering effort has even gone so well that the delivery of recycling sacks to residents across the city has even gone ahead of the normal schedule.
Councillors of all three parties have been mucking in at Food Bank Xtra, at its Saxon Court nerve centre.
They've been picking, packing and delivering essential bags of food, bundles of recycling sacks, and making phone calls to elderly and vulnerable residents to check up on how they are.
Some councillors who are themselves shielding, have been making phone calls.
Conservative group leader Cllr Alex Walker (Stantonbury) said: "It has been amazing to see MK's community spirit during this incredibly difficult time.
"Councillors of all political parties have been working hard supporting the Foodbank, MK Community Foundation and many others organisations, provide much needed support to our residents.
"I'm very proud of the way we've come together. We have a long battle with Coronavirus ahead but I'm hopeful if we keep working together, we will beat it."
Liberal Democrat Group Leader, Cllr Douglas McCall (Newport Pagnell South) appealed for people to make donations to Food Bank Xtra or MK Community Foundation's Covid-19 emergency response appeal.
"Councillors from all parties are doing their best to help the residents of Milton Keynes," he said.
"We're all working together to support our community. If you can, please consider making a donation."
Labour councillors mucking in include Cllr Emily Darlington (Bletchley East) who helped the Locals of the Lakes group to deliver Easter eggs to local children.
Every year Bletchley East Labour councillors buy eggs for a children's party, which could not take place this year.
Cllr Mohammed Khan (Bletchley East) joined the MK Bangladeshi community in offering meals to doctors and nurses at MK Hospital.
Conservatives who have been doing their bit include Cllr James Lancaster and his colleagues at Premier Inn who have been supporting donations to Foodbank Xtra.
Cllr Keith McLean (Olney) has been working with Emberton Sports and Social Club in delivering dry stock to the Foodbank and helping deliver boxes of deliveries to those in need.
To help out the Foodbank Xtra project with donations of food or money – or for those in need of help – can contact 01908 565852.