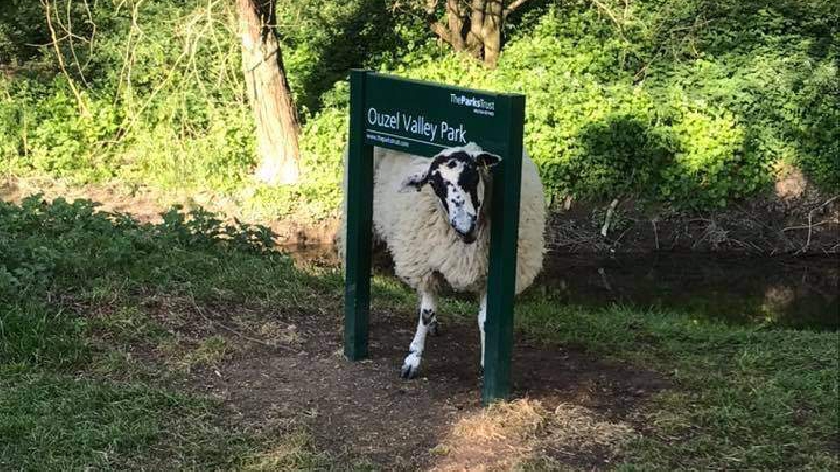 The Parks Trust have released pictures showing sheep making themselves at homes in parks across Milton Keynes.
Images show sheep at Ouzel Valley Park, where the sheep are currently grazing.
The Parks Trust have used this farming technique for decades, not only is it an environmentally friendly way to maintain the parkland, it also saves them time and resources which can be better utilised elsewhere.
People are being urged to keep their dogs on a lead whilst they visit the parks.
The Parks Trust have put together some Q&As on the matter which you can read just below our image gallery here:
Why should dogs be kept on leads around livestock?
No matter how well behaved your dog is, you can never guarantee that they won't start to chase after animals when off the lead.
Sheep worrying, whether your dog attacks or chases the sheep, is an offence under the Dogs (Protection of Livestock) Act 1953 and you can be prosecuted. Worrying can be fatal to sheep and can cause ewes to miscarry their lambs; they can also become injured during their panic.
Please keep your dogs on leads where grazing animals are present.
Can you tell me when livestock will be in a certain field?
We appreciate many of you like to know when your local grazing animals will be arriving, however, we are unfortunately not able to share specific dates and field rotation plans. This is because our livestock graze over a large amount of farmland across the city and fields are rotated based on the rate at which the fields are grazed which can vary significantly.

Signage will be updated, and communications will be posted on our social channels about any changes as they are going to occur, however, please ensure you always enter a field with caution where grazing animals may be present.
There is cow and sheep poo everywhere! Why should I pick up dog poo?
Dog poo is an environmental pollutant and health hazard. One example of this is that if dog poo gets into our hay, this can be very damaging for the health of our cattle. They can contract the disease Neosporosis which can cause abortions, reduced milk yields, impaired growth rates and prolonged calving intervals in cattle.
Why don't you close off the grazing areas from the public to keep the animals safe?
As a charity which cares for over 6,000 acres of open parkland in Milton Keynes, we aim to keep as much of our green space accessible as possible. Therefore, we do not close off areas unless it is essential.
I have witnessed a dog attack on a sheep, how do I report it?
During office hours (9am to 5pm Monday – Friday) please call 01908 233600 or email operations@theparkstrust.com. Out of these hours please call 01908 31177. We greatly appreciate your support!
How do I walk safely where animals are grazing?
Please see a list of our top tips here:
Always keep your dog under close control and always on a lead where livestock is present.
Do not allow your dog to scare or disturb farm animals or wildlife. Don't allow your dog to bark at or chase livestock. Keep small children and buggies close to you.
Cows are nosey and may come to investigate, especially if you have a dog with you. Don't panic or run if cattle follow you!
On entering a grazed field and if you feel unsure of the cattle, stand a few metres inside from the gate and see how the cattle respond to your presence. If they start to come towards your position, you can walk calmly to the gate and when safely on the other side review the situation.
When approaching grazing animals, talk calmly out loud or give a whistle so that they're aware of your presence. You're much less likely to startle them in this way. Avoid sudden movements or excited shouting. Once you reach them, walk quietly past or around them and praise your dog for ignoring them.
If you are threatened by cattle release your dog so you can both get to safety separately. Always keep your eyes peeled for potential dangers. If necessary, find an alternative route especially if your dog is elderly or slow.