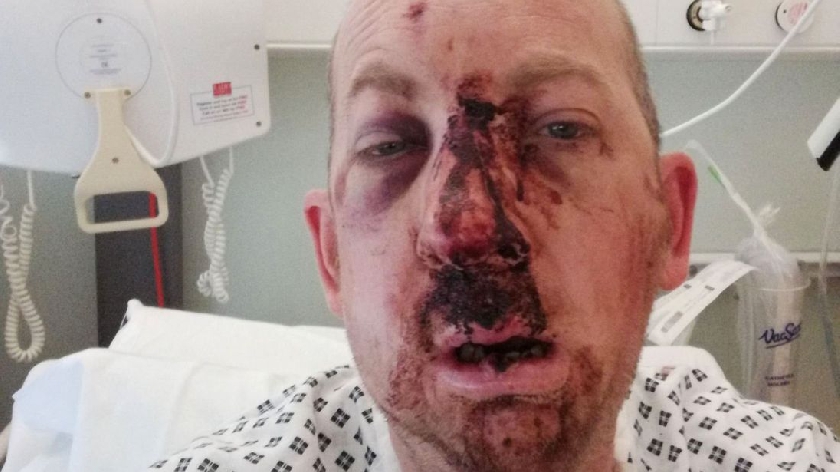 A father-of-two has sustained severe injuries including a broken jaw after crashing into a pothole while cycling in Stony Stratford near Milton Keynes.
Simon Moss, 44, lost four teeth and fractured his spine in the crash in Stony Stratford, Buckinghamshire, on Sunday.
According to The Times, he was still in hospital on Wednesday.
Mr Moss had been riding with friends when he hit the pothole, which they said was difficult to see as it was filled with rainwater.
Fellow cyclist Jez Honor shared the photos on Facebook and commented: "So the day started with a nice ride into the Buckinghamshire countryside..
"It was only a matter of time before somebody was going to be nearly killed by our roads that are becoming increasingly dangerous for all users.
"Well today after hitting a pothole filled with water and snapping the bike frame in half which was bad enough, a fellow human being (not me fortunately) is rushed to hospital and going to have a op tomorrow for fractured jaw, cheek, nose.
"Two puncture wounds on his face and split lip that needs stitching plus a slight fracture on his spine!"
A friend also sustained minor injuries when he crashed into Mr Moss.
The pothole, which measured 27cm (9in) deep, is understood to have been inspected by Milton Keynes Council three days before the crash.
The council's guidelines on pothole intervention for anything deeper than 7.5cm (3in) states they should be "made safe within two or 24 hrs based on risk assessment, permanent fix within 28 days".
Mr Moss's wife Helen has said he will be making a claim.
A spokesman for the council told Sky News: "We're very sorry to hear about Mr Moss's experience and injuries."
"Following notification by a local resident, we inspected the site of the pothole on 26 April and sent a gang out to repair it on 29 April."
"We invite both cyclists to contact us so that we can apologise and talk them through the claims process."
Reporting by Sky News.