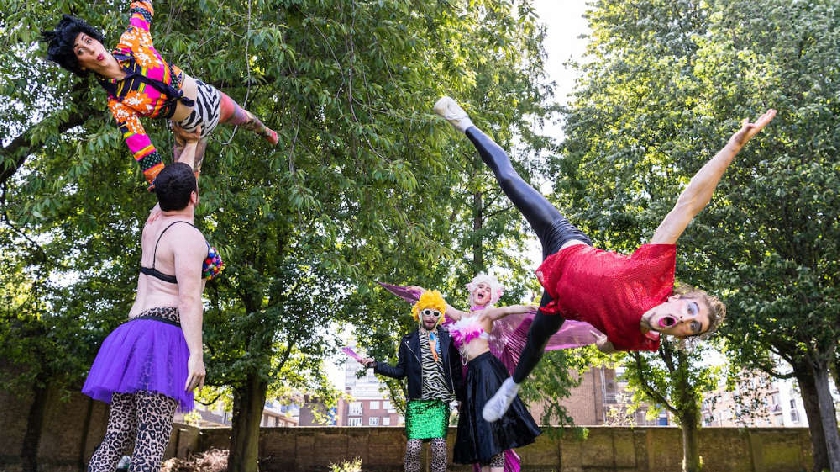 MÓTUS presents 'The Universe & Me - Part II' - supported through Arts Council England, the Milton Keynes Community Foundation and Milton Keynes Council.
MÓTUS was established in 2013 by professional dancers based right here in Milton Keynes, who through their professional work around the country, recognised that there was a huge amount of potential just waiting to be harnessed in the city.
After being awarded with funding from Arts Council England, MÓTUS will be putting on the second stage of their festival 'The Universe & Me' Part II.
The dance festival is due to take place 10th October in Middleton Hall (next to John Lewis), centre:mk, from 1pm - 5pm.
The festival is all about being connected, coming together and realising shared physical language alongside appreciating some of the finest performers in the UK on the festival / touring circuit.
The festival presents a wide programme:
Gravity & Levity - 'Why'
Why? is both a tender and exhilarating aerial duet exploring themes of life, loss, surrender and acceptance in a soft and moving way.
Kapow - 'Grow'
Grow is a lively, energetic and vibrant dance theatre duet by Kapow.
In a playful and touching celebration of natures power to rejuvenate itself, take over spaces and grow through the cracks, Kapow combine humanity an a comedic gardening show in their lively duet Grow.
Through order and chaos, humans transforming into weed, seeds and beautiful sunflowers, Grow looks at the relationships we form with one another and the natural world and explores what we all need to thrive.
This show leaves the audience feeling uplifted and inspired to get out and enjoy nature. It speaks about our relationship to one another, to the natural world and of what we all need to thrive.
GLAM
Glam is a 25 minute vibrant dance and circus cabaret, a humorous outdoor street performance celebrating fabulousness. Audience members are encouraged to join in the fun to dance with the cast in this gloriously fast paced show of acrobatics, hand to hand, disco, feathers, glitter and glamorous make-up!
In a surprise to no one, I loved Glam! It kicked out the joy we have all been missing." Audience member.
This is all for FREE and we would love to see you come along.
There will also be a Community Stage featuring work from the local community.
MÓTUS also run a youth dance company on a Thursday evening 5:30pm - 7pm, with a focus on individuality and performance.
You can find out more by emailing info@motusdance.co.uk