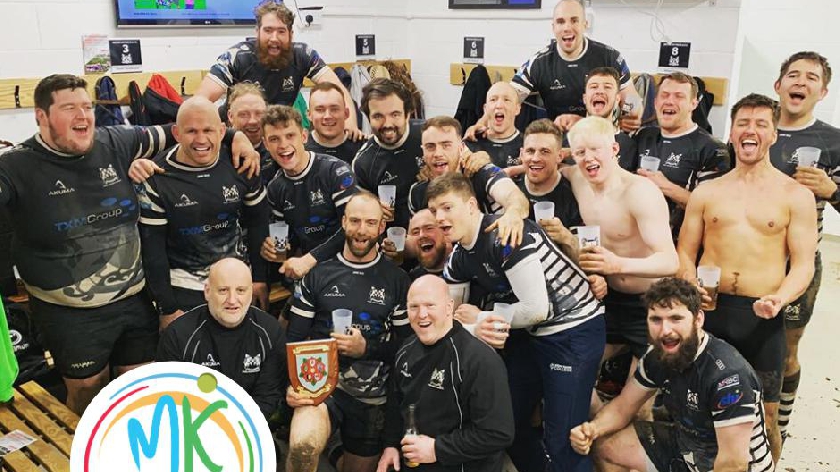 MK Rugby Club has won a major domestic trophy as a month-long celebration of the sport for MK's year as a European City of Sport reached a climax.
The high-flying men's side beat Dorchester to win the Southern Counties Vase Final for the first time in their history.
Rugby has been celebrated as the sport of the month throughout February as part of Milton Keynes' European City of Sport year.
Paul Savill, Chairman of MK Rugby Club said: "We're delighted to have added another piece of silverware to our trophy cabinet – and it's fitting that it's come as the city celebrates rugby for its year as a European City of Sport.
"We're a community club with a passion for youth development, and we're using the momentum created from the European City of Sport title to attract more people to our club to take part in sport and activity."
MK Rugby Club has played at Emerson Valley Sports Pavilion since 2011, which MK Council built to provide new sports and leisure facilities for the local community.
The rugby club now has more than 500 members, with male and female teams covering a variety of different age groups and abilities.
Dan Pearson, head coach of the victorious men's side said: "We've all been involved in rugby for a long time so to it's always nice to get to finals – and to have reached two finals in a single season is fantastic.
"We've been playing here for almost ten years now and we've really picked up some momentum – we're just going for strength to strength."
To find out more about European City of Sport celebrations in Milton Keynes, visit: https://www.milton-keynes.gov.uk/leisure-tourism-and-culture/sports-development/european-city-of-sport-2020
To find out more about Milton Keynes Rugby Club, visit: https://www.pitchero.com/clubs/miltonkeynesrugbyunionfootballclub/