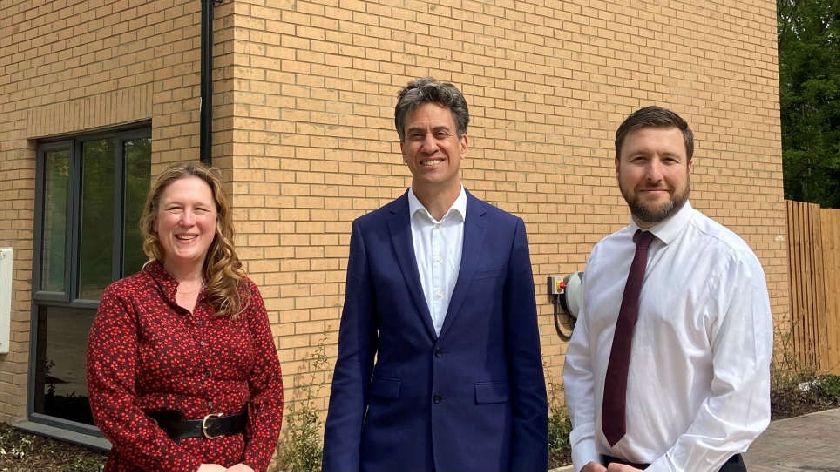 Ed Miliband MP visited some of the Labour-led Council's green council homes last week.
He was shown around a property on Talland Avenue in Fishermead, which is insulated, uses an air source heat pump, energy-efficient appliances, water butts and has an EV charging point.
Ed Miliband MP backed the Labour work on social media this week. Ed Miliband MP said: "They're building new council homes, and they're also insulating existing council homes, and this is so important because it is cutting bills for families at a time when so many people are facing an energy bill crisis."
MK Labour has pledged to insulate 1,500 council properties by 2024 to increase energy efficiency, while also providing £250,000 in financial support for low-income families who cannot pay their energy bills.
Councillor Pete Marland, Labour Leader of MK Council, added: "MK Labour is committed to ensuring every household has a safe, warm place they can call home. Our eco-conscious council housebuilding programme, coupled with our plans to insulate hundreds of existing homes, will mean families have more money in their pocket."
He added: "The Conservative cost-of-living crisis has seen families choose between heating, eating and debt. While the Government has increased national insurance and cut Universal Credit, MK Council has stepped in to provide over £16m in direct cost-of-living support, with £250,000 going on energy bills for people who can't afford to pay them."
He concluded: "A vote for Labour on 5th May is a vote to support families that have been hit with the biggest tax burden since the 1940s. MK Labour will continue to provide vital support for those that need it the most, all while helping MK become the greenest city in the world."
You can read all of the party pledges here: Here are the local party manifestos
MKFM has gathered the manifestos from the main local parties, including Labour, Conservative and Lib Dem.
MK CONSERVATIVES
Key pledges -
Showing MK some TLC
Tackling litter and flytipping
A safer Milton Keynes
Ambitious plan for MK's future
Better transport and parking
A green and healthy MK
Investment in young people
Read full manifesto here - Milton Keynes Conservatives 2022 Manifesto.
MK LIBERAL DEMOCRATS
Key pledges -
Create neighbourhoods we can be proud of
Build affordable housing for the next generation
Invest in our city's resilient economy and balance the council's budget
Provide suport for local children, families and communities
Create a green Milton Keynes
Fight for better health and social care
Read full manifesto here - Milton Keynes Lib Dem 2022 Manifesto.
MK LABOUR PARTY
Key pledges -
More police
Help during the cost of living crisis
Clean up Milton Keynes
Fix our roads and pavements
Keep council tax low
Read full manifesto here - Milton Keynes Labour Party 2022 Manifesto.
MK GREEN PARTY
Green Recovery from COVID
Support local economy
Climate emergency and environment
Housing and planning
Transport
Read full manifesto here - Milton Keynes Green Party 2022 Manifesto.