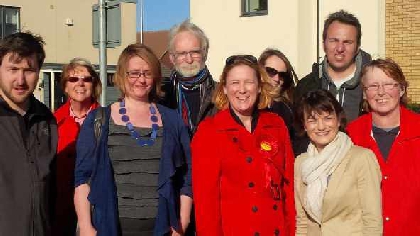 The Labour Party candidate for Milton Keynes North at the 2015 General Election has announced she will not stand in June's election for the party.
Emily Darlington, who came second in the general election in May 2015 with 30.3% of the votes, has said that she is unable to stand again due to family commitments.
In a statement, Emily said "Thank you to all the people who have been in touch to encourage me to stand in this snap election. I am deeply disappointed that due to family commitments it is not feasible for me to put myself forward at the moment."
"This is a crucial election to fight the Conservatives on their plans for a hard Brexit and their cuts agenda to our public services. I hope that the good people of Milton Keynes will use their votes to deliver a clear message to our current MPs that they need to stand up for our communities, the NHS and jobs in our city."
"I will be backing our Labour candidates in Milton Keynes North and South 100%."
"Because by the strength of our common endeavour we achieve more than we achieve alone."
Labour Party rules now mean that the seat will be advertised this Friday (21st April) on Labour's website and applications will close this Sunday (23rd April). Candidates will then be selected directly by National Executive Committee panels and Regional Board members.
Andrew Pakes, who stood for Labour in Milton Keynes South in 2015, is yet to confirm if he will stand again in June.