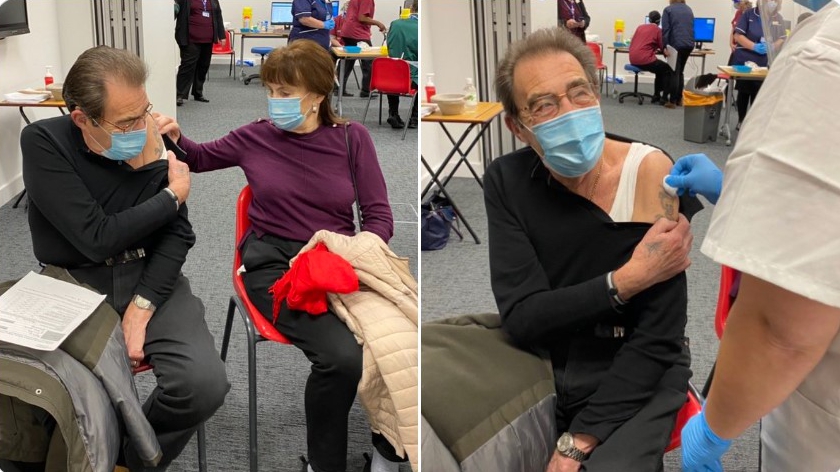 Barbara, 82, and Arthur, 86, were the first couple vaccinated at the hospital
The vaccination centre at Milton Keynes University Hospital (MKUH) has now permanently closed after administering 30,000 jabs.
Hospital staff began operating one of the UK's first regional vaccination centres on the site of the hospital on 8 December 2020.
The first patients who received their jabs, Barbara and Arthur, were featured on national television for being the first couple in the South East of England to have the Pfizer vaccine.
Staff were incredibly busy from the moment the vaccination centre opened; they were answering a phone call every thirty seconds on the dedicated vaccination booking line.
In the past four months, over 30,000 vaccinations have been administered at Milton Keynes Hospital. Many of those have been second doses, meaning that thousands of local residents are now fully vaccinated against the virus.
Several vaccination centres have since opened in the local community, including the Mass Vaccination Centre at Saxon Court, and because the local centres have the capacity to vaccinate the community, the hospital has decided to close its centre.
A spokesperson for MKUH said: "Having delivered over 30,000 vaccinations since opening in December our vaccination centre is now closed as community vaccination hubs are now delivering COVID-19 vaccinations across the area.
"If you are a member of MKUH staff, you will be emailed information about how to receive your vaccination in the community. If you work for one of our partner organisations or a community healthcare provider, please contact your organisation directly to find out how to receive your vaccine."
Locally, over 96% of over 50s have had at least one dose of the vaccine. The Government has also reached its target of wanting to vaccinate the top nine priority groups by Thursday 15th April.
This target was met three days ahead of schedule, meaning that some 32 million people within those groups - which includes healthcare workers - are now vaccinated against the virus.
As a result, the NHS will be offering first doses to the next priority group while also focussing on continuing to administer second doses.
Anybody aged 45-years-old or older in Milton Keynes can now use the online booking service to make an appointment.
The booking service will show the next available appointment, which could either be at the Saxon Court Mass Vaccination Centre or one of the many GP and pharmacy-led centres across the city.
Other people that can book their COVID-19 vaccine include those that are at high risk from coronavirus (clinically extremely vulnerable), those that have a condition that puts them at higher risk (clinically vulnerable), those that have a learning disability, and carers (paid and unpaid, including those on carer's allowance).
To access the online booking service please click here.