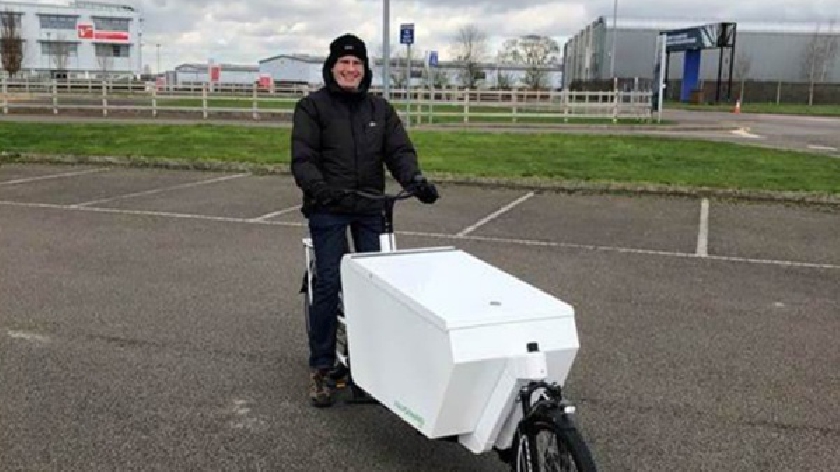 Milton Keynes Council is introducing 21 eCargo bikes to its vehicle fleet to help make council business travel more sustainable.
The Council's tree and highway inspectors will use the bikes as a greener way of getting around the borough for their investigations.
Highway and tree inspections clock up around 5,000 miles of council travel each year. The council intends to lead the way with sustainable transport solutions and will continue to explore alternative travel options to help meet its ambition for MK to become zero-carbon by 2030.
The fleet will also be available to lease to local businesses as part of the Council's smarter business travel initiative helping businesses reduce transport costs and emissions. Three of the eCargo bikes will be available for a local social enterprise.
The Council secured funding from the Department for Transport to purchase the eCargo bikes, which can carry up to 630 litres provides a green transport solution for first and last mile deliveries.
MK council's children social care team swapped to electric cars last year, in what was believed to be a UK first. Each social worker travels on average 150 miles per month, and the team shares four cars to make their short journeys around MK.
Cllr Jenny Marklew, Cabinet Member for Sustainability, said: "We are committed to new and innovative ways to contribute towards our ambition of becoming carbon neutral by 2030. E-cargo bikes are such a fantastic way to help us achieve this, meaning the council staff, social enterprises and local businesses are all able to play a part in reducing our impact on the environment.
"I think electric bikes are the future, and I'm really proud that yet again Milton Keynes is leading the way."
Tim Anderson, Head of Transport at Energy Saving Trust, said: "The Department for Transport eCargo Bike Grant Fund attracted a significant number of applications. The 18 local authorities who have successfully secured funding will purchase a total of 273 eCargo bikes and nine eCargo bike trailers, enabling more businesses to benefit from access.
"eCargo bikes are an attractive low carbon transport solution which offer important benefits, most impressively fuel cost savings and contributing to improved local air quality. Last mile delivery is an important area for consideration in our journey to reduce transport emissions to net zero by 2050."