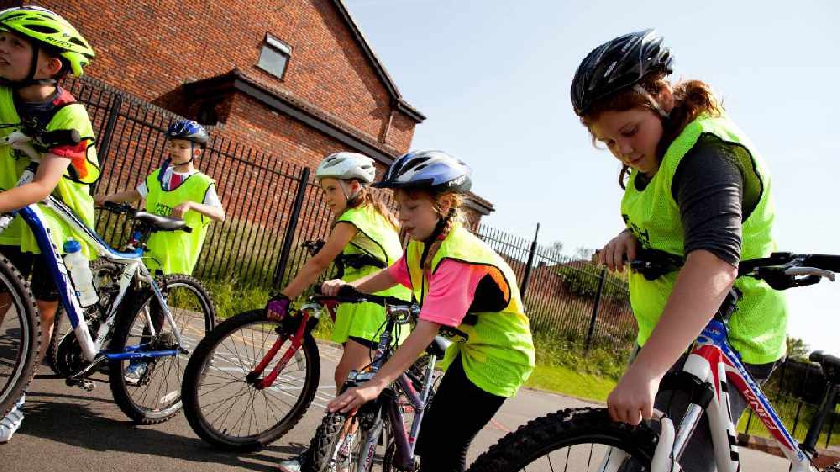 Photo from British Cycling
The Government has announced today (7/2) that 400,000 training places will be offered each year, ultimately offering them to every child in England.
The scheme, Bikeability, will provide children with the core skills to cycle safely and confidently on the road.
Bikeability was launched in 2006, and since then more than 3 million children have taken part in the scheme.
Chris Heaton-Harris, Cycling and Walking Minister, said: "Cycling is a fun and enjoyable way for children to get to school, the shops or see their friends. It is also environmentally friendly and has a positive impact on their mental and physical health.
"Extending Bikeability training will inspire the next generation to take to the roads as confident and proficient cyclists and will play an important role in helping us meet our net-zero emission targets."
The announcement comes as the Government has revealed that expected spend between 2016 and 2021 on active travel has doubled to £2.4 billion.
The Government has also today announced that it will invest £22 million in a range of national schemes over the next year. £20 million will go to extend the Access Fund which helps local authorities support more people to cycle and walk; £1 million will go towards the Big Bike Revival – a grass roots project encouraging more than 40,000 people to take up cycling who wouldn't normally consider it; and £1 million will be invested in the Walk to School outreach programmes offered by the Government's partners Cycling UK and Living Streets.
Paul Tuohy, Cycling UK Chief Executive, said: "Projects like Bikeability and the Big Bike Revival provide the skills for safer cycling to some of the people who need it the most.
"It's fantastic to see the Government continue to back programmes that deliver and are helping thousands of people every year on their cycling journeys."
The Access Fund investment will enable more employers to provide cycle training at work, as well as advice to make it easier for people to make the switch towards more sustainable forms of transport.
Milton Keynes Council offer Bikeability training at a variety of levels for years 5, 6 and 7 at a large number of schools. To find out more, please click here: https://www.milton-keynes.gov.uk/highways-and-transport-hub/get-cycling-mk/cycle-training