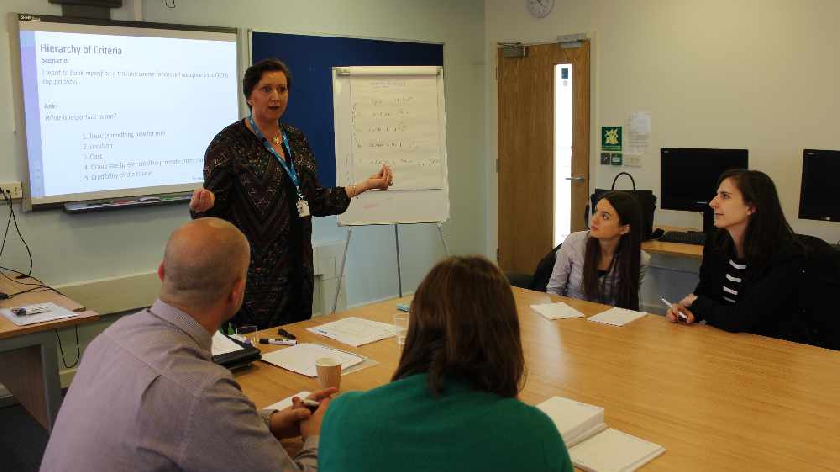 Lindsay Taylor (Associate Trainer) delivering the Decisions Decisions workshop to a group from a number of different local businesses.
Learning at Work Week at Milton Keynes College is proving massively popular with local businesses with every course filled well in advance of the event which runs from Monday to Friday, 14th–18th May.
It's a national event designed to highlight the value for companies in developing their staff and equipping them with new skills. Groups of employees from a host of businesses will be taking short courses on a wide variety of subjects from health and wellbeing in the workplace to marketing, sales and management.
The week is being run by the College's Head of Apprenticeships, Anna Clarke, who says the programme has been designed to provide the maximum impact with the minimum disruption to people's working day. She says, "The seminars and workshops are scheduled in bite-sized pieces of about two hours each so people can take a morning or afternoon but not be away from the office for the whole of a day. We've been really pleased by the take-up from local companies which shows how the College is seen as the go-to place in the city for developing staff."
About four hundred people will be taking part from businesses large and small, including household names like Bletchley Park, Marshall Amps, Bosch and The Parks Trust.
Anna says, "The sessions take place at the College's Silbury Campus which blows people away when they haven't been here before because it's so unlike what anyone expects an FE College to be like and more like a business hub. All the places are free of charge so it's an excellent opportunity for people and their employers to get a taste of what we can offer."