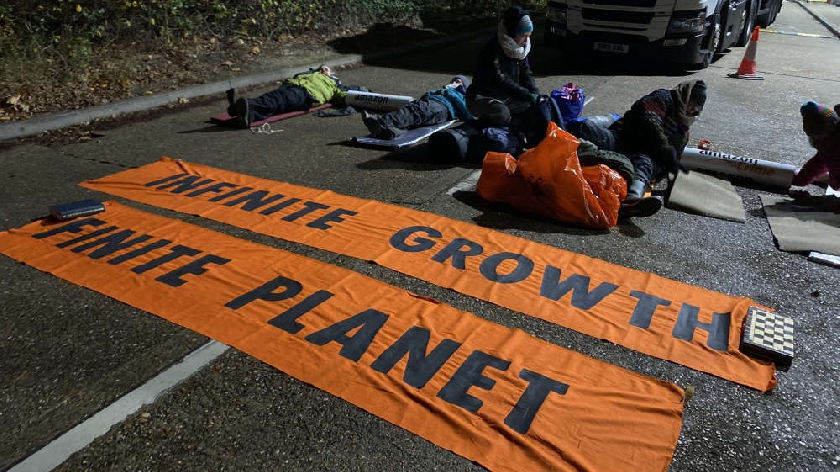 @XRNorthampton
The protest is set to take place for 48hrs across thirteen UK sites including Milton Keynes today (26/11), disrupting Black Friday.
The protesters say the action is intended to draw attention to Amazon's exploitation of its workers and environmentally destructive and wasteful business practices on Black Friday.
XR Northampton said there are around 13 protesters at the site currently. They are also calling out for wider support from local activists and public.
The group is blocking multiple entrances across the UK using bamboo structures, lock-ons, and banners with the words 'AMAZON CRIME' and 'MAKE AMAZON PAY' on them. They intend to stay for at least 48 hours.
Black Friday is set to be the busiest shopping day of the year for most companies including Amazon. The protests aim to disrupt travel and force the online selling giant to change practices.
The blockade is in solidarity #MakeAmazonPay is a group of workers and activists who say they are commitment to Make Amazon Pay fair wages, its taxes and for its impact on the planet.
A spokesperson says: "On Black Friday 26 November 2021, from oil refineries, to factories, to warehouses, to data centres, to corporate offices in countries across the world, workers and activists are rising up in strikes, protests and actions to Make Amazon Pay."
❗️❕Breaking ❕❗️Amazon Milton Keynes blocked by Bedford and Northants rebels in solidarity with #MakeAmazonPay strikers and Climate Activists everywhere. #MakeAmazonPay #AmazonCrime #ExtinctionRebellion#InfiniteGrowthFinitePlanet@MidlandsXR @XRebellionUK pic.twitter.com/fkfFLlQE6G

— XR Northampton 👞 (@XRNorthampton) November 26, 2021
Police are at the scene of some protests across the country.
They say the blockade of Amazon is in attempt to force the online shop into changing its "highly climate-destructive corporate practices".
The actvist group said the action is taking place on Black Friday to "confront the exploitative and environmentally destructive business practices of one of the world's largest companies."
They say: "Amazon is known for a long list of widely recognised "crimes" – from tax avoidance to the exploitation of workers, to rampant wastefulness and ecological destruction – while making its founder and largest shareholder Jeff Bezos one of the richest men on earth."
AA traffic reports: "Demonstration on the entrance to the Amazon warehouse near the A421. Traffic is coping well. A group of protestors are blocking access to the Amazon fulfilment centre, as part of a larger set of protests across the UK."
Nine hours in - the rebels remain at Amazon MK (Ridgmont) amazing what a few dedicated (if terrified) individuals can do - imagine what we could do with you on board.

Join us at our next open meeting - https://t.co/6Y0j7kuiSf@MidlandsXR #MakeAmazonPay pic.twitter.com/x1q93TfAyb

— XR Northampton 👞 (@XRNorthampton) November 26, 2021