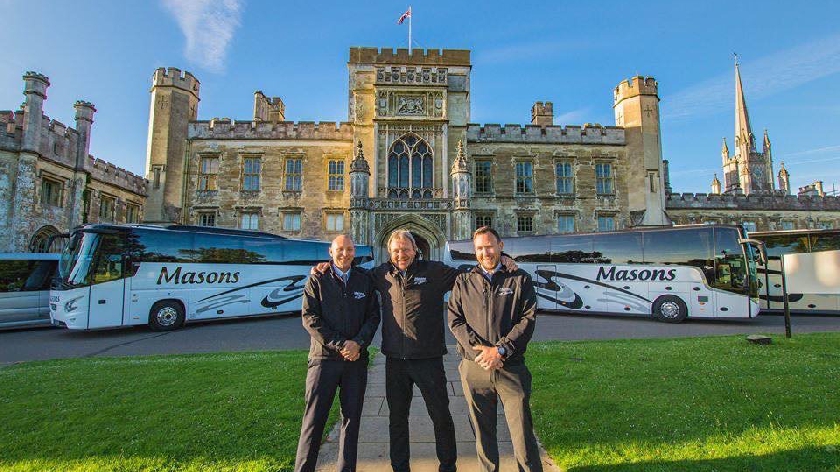 Masons Coaches, who operate throughout Milton Keynes, is not recognised as part of the leisure industry by the Government.
This means that they are not eligible to receive the Government's COVID-19 support package for leisure businesses, despite the fact that leisure makes up a huge proportion of their business.
Masons Coaches are based in Tring but serve dozens of groups and schools within Milton Keynes, and have proved hugely popular within the local community throughout the 35 years that they have been operating.
The Mason family said: "We are not recognised as the leisure sector and we are slipping between the net. Public busses are recognised, aviation is recognised, the train network is recognised but we are not! There is a huge environmental concern if the industry disappears.
"Not only do we run our own day trips & holidays but we have 10 vehicles which conduct private hire work, where by people and school book us for their leisure requirements. This ranges from Day trips to the seaside, national trust sites, theme parks, weddings, concerts, airport transfers, you name it, if a group of people need transporting we'll do it!"
Aside from this, the company transports nearly 500 children to and from schools in Milton Keynes. Now, these children are at risk of losing their transport.
They continued: "In addition we have been actively encouraged by the LA to develop our school routes into commercial routes, moving away from county council school contracts, as a result we are not entitled to receive any financial support from the LA leaving us in an incredibly disadvantaged position and currently, we owe over £180,000 in refunds to school parents."
Since the start of the pandemic, the company has lost £450,000. They are currently in the process of applying for the business interruption loan, but are concerned about how they will pay it back. Masons Coaches has calculated that they need between £300,000 and £550,000 in loans, and the bank has since shared their concerns about how the amount they will need to "get back on their feet".
They added: "We have applied for the small business grant; we have two properties but for reasons I don't understand we can only gain the grant for one. And we are not eligible for the leisure grant."
Social distancing is also not a viable option for Masons Coaches, as they require a minimum of 25 passengers on each trip to cover their costs. A great proportion of customers are also over 70 years old and/or in the vulnerable category which means they are unlikely to travel for months to come.
"No wheels have moved for us since 20th March with no prospect of that changing for some time. All 20 of our staff jobs are at risk when the furlough scheme finishes. If we do not get our business to where it was by the beginning of next year, we will not make it."
Masons Coaches have since written to their local MP raising their concerns. They have also joined the 'Back Britain's Coaches' campaign, a national effort to encourage the Government to recognise the coach industry within the leisure sector.