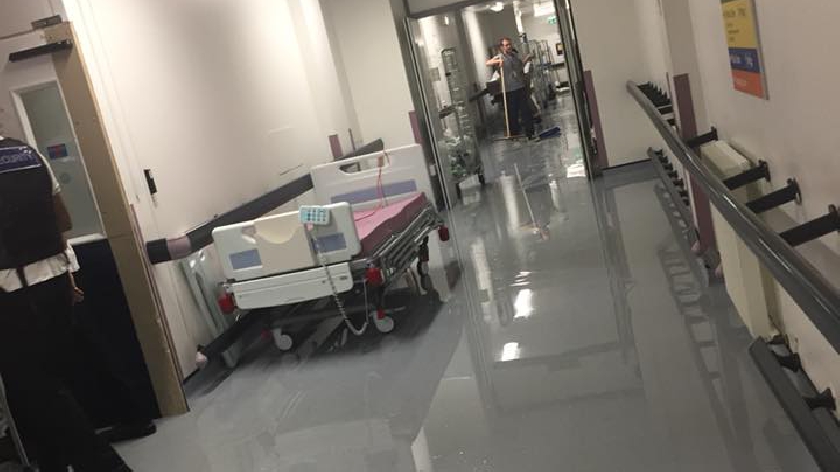 Milton Keynes Hospital have announced that they have had to postpone a number of planned operations and appointments tomorrow (Tuesday) due to flooding on site.
Hospital officials are currently phoning all patients affected by postponements to inform them. They have advised that patients who are due to come in and do not hear from them should attend as normal.
Multiple parts of the hospital site were affected by flood water, caused by heavy rain on Sunday.
Areas particularly affected include the emergency department, radiology (imaging) department, treatment centre and IT server rooms.
Water has been ankle-deep in places and the hospital had to divert ambulances away from its ED for a short while overnight on Sunday.
A number of agencies, including South Central Ambulance Service, Fire Service and Milton Keynes Council assisted the hospital throughout the night.
Chief Executive Joe Harrison said: "I would like to thank staff for keeping the hospital running as close to normal as possible whilst dealing with flooding overnight."
"Clinical, operational and support teams - including the estates and domestic teams - continue to work incredibly hard to manage this situation and ensure patient care and services continue to be provided safely."
"Our priority will be cleaning up the flood water and ensuring the site is safe and functional in all areas affected."
"If you are visiting the site please take particular care and allow additional time as corridors and departments may be closed or partially closed for cleaning. There will be parts of the site that remain water-logged so please take extra care in when walking in and around the hospital."
Thames Valley Police issued advice to drivers on Sunday to avoid using affected roads.