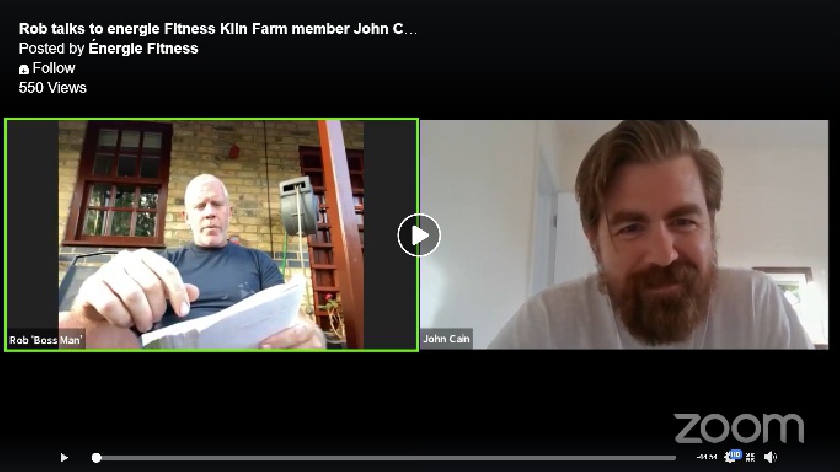 Local energie Fitness gym launch free weekly seminars on "all things fitness health and well-being". The weekly talk is being held between club owner Rob Francis and his weekly special guest.
The guest will be an expert from the wide ranging and varied fitness health and wellness industry in the Milton Keynes area and will change weekly. Rob will talk to the expert guest to find out about them and what they do and draw on their particular knowledge or skill sets. Rob will also ask his guest how they are coping during the current Covid-19 crisis and any hints, tips and advice that they might have for thriving at this time.
Rob explains, "This weekly chat is in response to requests from our online member base. Our members have been enjoying our wide range of live interactive classes and on demand class content, which has been keeping them fit, healthy and active. But they want something more. We've already been doing great fun weekly socials and educational content. But we want to give our members something to show them the wide range of amazing instructors, experts and experiences available in Milton Keynes. I also wanted to give the amazing fitness health and well-being practitioners in MK, who may have found it difficult to reach an audience at this time, the chance to tell everyone about what they are doing!"
In the first chat that went live on Monday 18th May, Rob spoke to one of his club members John Cain, who started a blog about the positive changes he decided to make to improve his own fitness health and well-being back in 2017.
Rob says, "John's story is a perfect one to both kick off our interview journey and to get Mental Health Awareness week under way. What he has blogged about is a fantastic insight into the positive steps anyone can make to improve their own lives, physical and mental well-being. After last night we had loads of really positive feedback from our members who found John's story really interesting and informative."
If you would like to share your story, expertise or just to tell everyone about what your business or practice can do for them, then Rob would love to hear from you. Contact Rob and the team at energie Fitness in Kiln Farm via their website or email milton.keynes@energiefitness.com
Join energie Fitness Kiln Farm for free fitness, health and well-being seminars every Monday at 19.15 via the energie Fitness Kiln Farm Facebook page.
Watch Rob talking to energie Fitness Kiln Farm member John Cain about mental health from Monday 18th May 2020 -