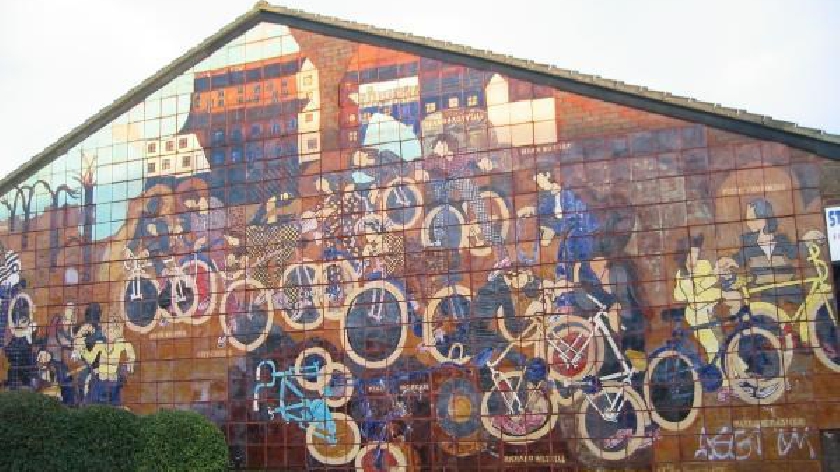 A detailed plan for removal of an historic bicycle mural to allow a new Aldi to be built is to be considered by councillors, it has been confirmed.
Aldi has already been given permission for the store, and the company is keen to demolish buildings at the local centre in Purbeck as it eyes opening the supermarket in time for Christmas.
The bicycle mural is on a wall that has been earmarked for demolition.
As part of the planning process it has to get the green light from the council for its technical proposals to take the mural down, store it, and future plans.
Aldi believes the demolition can be started after its proposals for removing the mural are approved, but before future plans are agreed.
A "method statement" which included the potential future use of pieces of the mural for signposts at Stantonbury International School has now been removed from the proposals.
Dan Templeton, on behalf of Aldi, said plans for what would happen to the mural would be the subject of another application.
He said the company was "trying to deliver on the investment" but did not want to ignore its responsibilities regarding the mural.
He said: "The long term plan for the mural has not been agreed, we still need to deal with that."
The pending new store and the 40 jobs it will bring has widespread support in Stantonbury.
At an online meeting on Monday, Stantonbury Parish Council chairman, Cllr Graham Davison, said: "We need to get on with the construction."
The nearby school has itself submitted plans for a major redevelopment.
Parish councillors want to avoid having two big construction projects in the area at the same time.
"If the wall is still standing at the time, it will almost certainly be damaged by vibration from that demolition," said Cllr Davison.
Parish councillors voted by six votes to nil to support Aldi's plan for the removal of the mural.
Applications over whether developers have met council conditions are normally dealt with behind the scenes by officials.
But culture campaigners have argued for it to be determined by councillors.
And this week, Milton Keynes Council has confirmed to the Local Democracy Reporting Service that the plan will be presented to a future meeting of the development control committee.
Ian Michie, who chairs the Public Arts Trust, said: "It is an important community artwork and must be relocated and re-erected as one artistic piece."
Former city mayor Alderman Euan Henderson said: "It is incumbent on the planning department of MK Council to make every effort to ensure that the
"bicycle" mural is relocated and re-erected as a whole."
Mr Templeton in an entry on the council's website offered to host an early meeting to decide on future plans for the mural.