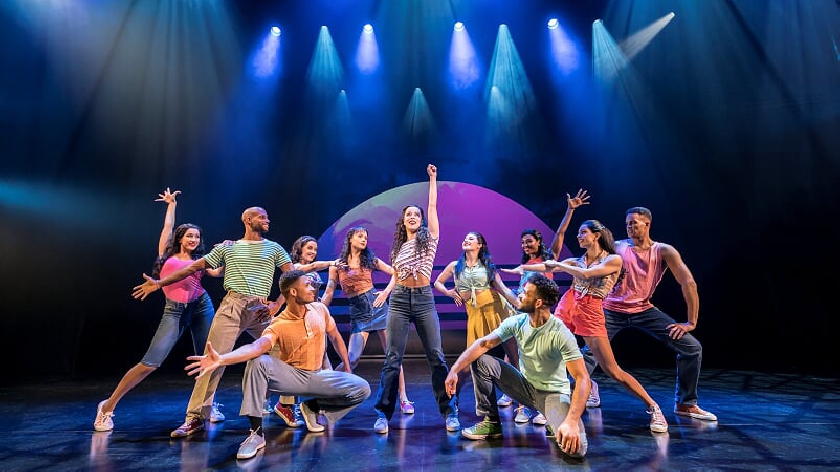 Join a free dance class at 5.15pm on Tuesday 11th February at Revolución de Cuba in Milton Keynes with the cast of On Your Feet!
Imagine this: you're sipping a rum cocktail in the Old Square in Havana. The sun is slipping down in the sky but it's still hot, hot, hot.
Suddenly you hear the music; Rhythm Is Gonna Get You, sung by Gloria Estefan.
Before you know it you're On Your Feet! you can't help but start to dance.
'¡Arriba, Arriba!'
OK, we can't magic you out to Cuba, and Milton Keynes in February is rarely hot, hot, hot but Milton Keynes Theatre would like to invite you to join a free dance class at 5.15pm on Tuesday 11th February at Revolución de Cuba in Milton Keynes' 12th Street where the cast of On Your Feet! will be on hand to teach you some sizzling dance moves! No experience necessary and all are welcome!
The dance class is free but booking is required in advance. See the details below for booking.
To reward yourself for having tried out those steamy Latin American dance rhythms, treat yourself to a Cuba Libre cocktail at Revolución de Cuba after the class and receive an exclusive offer for £20 tickets to see the show (Tue – Thu performances) at Milton Keynes Theatre! The Cuba Libre is a Havanan classic of Bacardi Añejo Cuatro rum, freshly squeezed lime and Coca-Cola Zero. There's also a non-alcoholic mix made from pineapple, passion fruit, strawberry and lime, filled to the top with zesty Ting. Revolución de Cuba's cocktails are expertly crafted to bring you an authentic taste of Cuba without leaving the country!
On Your Feet! is the true story of how a shy young singer became the most successful Latin crossover performer in the history of pop music selling over 100 million records along the way. The show features some of the most iconic pops songs of the era, including 'Rhythm is Gonna Get You', 'Conga', 'Get On Your Feet', 'Don't Want To Lose You' and '1-2-3'.
But it's also an inspiring love story. Because, almost 45 years since they first met and after 40 years of marriage, Emilio Estefan, the man who encouraged her is still by her side.
To book your place for this free dance class, contact Revolución de Cuba on 01908 886246 (lines open between 9am and 6pm)
Or email: bookings-mk@revoluciondecuba.com.
On Your Feet is at Milton Keynes Theatre from 11th to 15th February.
To book, visit ATGTICKETS.COM/MiltonKeynes