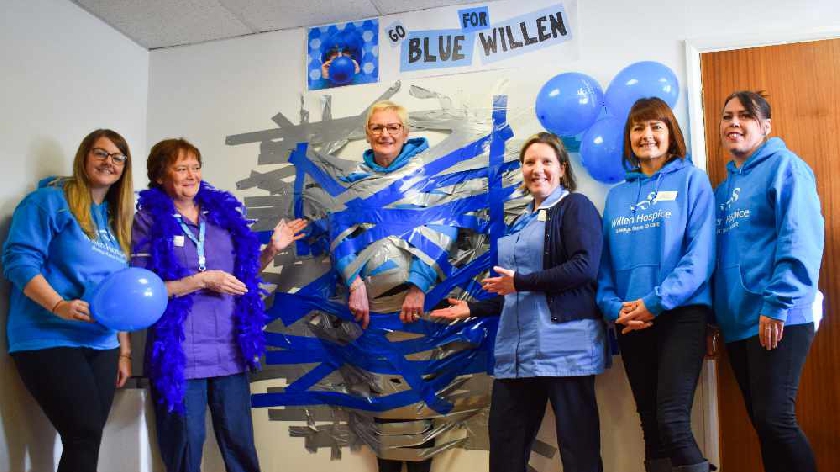 Willen Hospice Chief Executive Peta Wilkinson took fundraising to the extreme this week when she was duct taped to a wall! The stunt was to promote the charity's 'Go Blue for Willen' fundraiser, which takes place between 2-15 March.
The team behind the initiative are encouraging work places, schools, families and friends to take part in a blue-themed fundraising event of their choice during the two-week campaign, which takes its theme from Willen's corporate colour.
They have come up with a list of suggestions for people to take on, which includes taping your teacher, boss or colleague to a wall and charging a fee to stick a strip on to keep them up! Other ideas include dressing in blue or denim for the day, holding a blue bake sale and blue themed games. Whatever people take on, Go Blue is all about having fun and raising vital funds for Willen Hospice.
Peta said: "I've been asked to do some crazy things in the past – skydive, abseil, walk on fire, but being taped to a wall has never come up before! It just shows that there are so many ways to raise money, you can be as creative as you like!
"Go Blue for Willen is one of the most important campaigns in our calendar. It provides a great opportunity for people to have a bit of fun while raising vital funds at the same time. The community are always so supportive and we love seeing the different ways they get involved."
The charity's high street shops will also be getting involved by holding a Blue Cross Sale for shoppers to grab some bargains during the fortnight.
Willen Hospice needs to raise £4.7 million a year, that's £9 a minute to continue caring for patients at the Hospice and in the community. To find out more, visit www.willen-hospice.org.uk/blue More fundraising ideas and downloadable resources are available on the Hospice website www.willen-hospice.org.uk/blue or call 01908 303071.