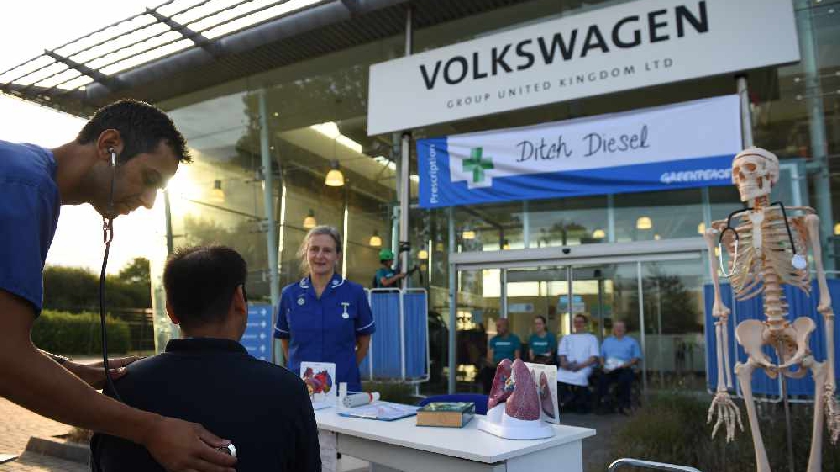 Greenpeace anti-diesel campaigners and medics have ended the peaceful blockade at Volkswagen head office, following an agreement from VW that it would meet with the campaign group.
All the protesters left the site without being taken into custody.
VW previously held a global policy of no-meetings with Greenpeace about its ditch diesel campaign, but said as a result of the action today it has changed its policy.
Today more than 11,000 people emailed Paul Willis MD of VW Group UK in support of the action and urging him to meet with Greenpeace to talk about diesel pollution.
The protestors arrived at Volkswagen head office this morning, shut down the building and set up a diesel pollution clinic outside to offer health advice and lung function tests to staff.
Greenpeace is demanding Volkswagen commit to stop producing diesel cars and go 100% electric.
Mel Evans, clean air campaigner at Greenpeace, and one of the protestors there today, said: "Volkswagen has previously refused to meet with us, so we came here today to make them listen.
"Because of the actions of our protestors and the thousands of supporters who joined in today by emailing Volkswagen, the company has now changed its policy worldwide and agreed to a meeting.
"Diesel pollution is choking our towns and cities, and filling up our emergency departments.
"We won't stop campaigning until Volkswagen does the right thing. It must face up to its responsibility for deadly air pollution and commit to end diesel production now."