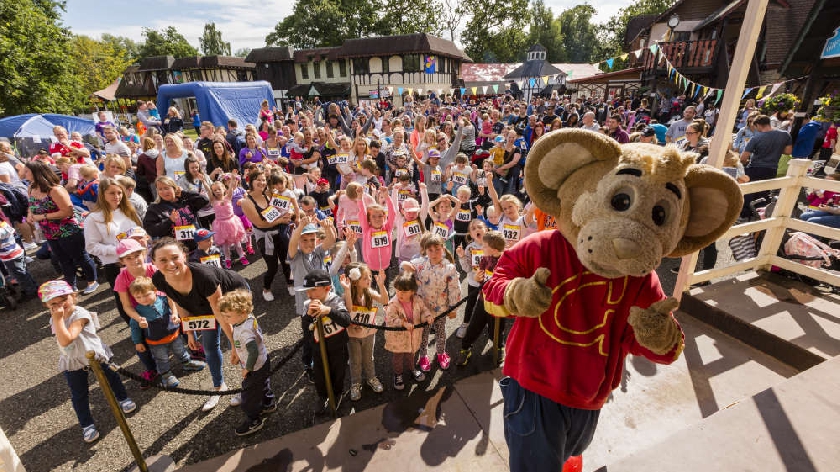 One thousand walkers and runners are wanted for the annual charity fun run at Gulliver's Land to raise money for Willen Hospice.
The Milton Keynes theme park resort will host 1,000 runners over the weekend of July 16th and 17th for the fun run.
500 runners a day will follow a route taking in the park's rides and attractions.
The colourful race will raise money for Willen Hospice, which provides free, palliative care to approximately 300 patients on its In-Patient Unit each year.
A further 700 patients are cared for in the community by the Willen at Home team.
A ticket combining the fun run and theme park entry is just £15 per person, with £5 of each entry being donated directly to Willen Hospice.
In addition, for every participant Gulliver's Land will donate one theme park ticket to a local children's charity, supporting young people throughout the Milton Keynes area.
The race route is one mile and participants are welcome to run, walk or toddle to the finish line. All participants will receive a fun run medal and amazing prices will be up for grabs for the best fancy dress costume.
A place in the race must be booked online, with 500 places available each day.
Registration and runner number collection takes place at 9am, with the race beginning at 9.45am. Rides and attractions open from 10.30am.
Those not taking part can still purchase theme park tickets (entry from 10.30am) at the standard rate.
Sue Conway, resort manager at Gulliver's Land said: "We can't wait to welcome walkers, runners and their families to our annual charity fun run.
"We have previously worked with Willen Hospice and know how important their work is in the Milton Keynes community. We hope this special day raises as much money as possible to support their crucial work with so many families."
Nikki Poole, Community Fundraising Manager at Willen Hospice, said: "We are thrilled to again partner with Gulliver's Land for their annual fun run and so grateful for the support from the resort and their generous guests.
"Willen Hospice needs to raise £4.7million every year to continue offering our free services and we rely on donations and more than six hundred volunteers from the local community. Events like this are so important to raise funds and we hope to see a great turnout for this fun-filled event."
For more information and to book your ticket for the race, click here.