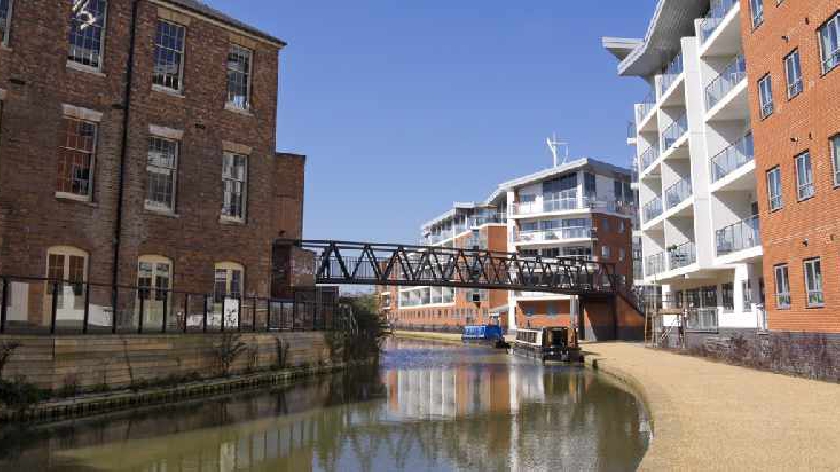 The contrast of an old development and new development in Milton Keynes
Nearly half of homes (47%) with an energy rating in MK fall below the target Grade C, meaning these homeowners are potentially losing hundreds of pounds on failed energy saving.
Last year, the Government announced its aims to bring all greenhouse emissions in the UK to net-zero by 2050. This also includes making all homes in England and Wales the equivalent of an Energy Performance Certificate (EPC) "C grade" by 2035.
However, new research by the BBC shows that this may not be possible unless millions of houses across the country are made more efficient.
Nearly 11 million domestic properties in England fall below Grade C, including nearly HALF of properties that have an energy performance certificate in Milton Keynes.
This means that local homeowners are losing money on their energy bills and are emitting unnecessary CO2 into the atmosphere in the process.
Jane Grindley, Director of Milton Keynes Community Energy, said: "We believe it should be mandatory for all new homes being built now and planned, to reach much higher standards of energy efficiency than they are currently. Otherwise we build in even more problems for the future, and are allowing developers to contradict the MK Council declaration for a carbon zero city by 2050."
Currently, MK Council's Plan:MK ensures high sustainability standards for all new development within the borough. MK Council is investing £165m in improving its homes which includes installing energy efficient boilers, warm roof replacements, window and door upgrades and enhanced insulation.
The BBC's research shows the average amount of CO2 emitted by homes with an EPC certificate in Milton Keynes is 3.28. There are various ways that residents can reduce this, with retrofitting being one of them.
MK Community Energy supports retrofitting, which is the addition of newer technology to older systems, however, they say it can be "much harder than building our homes properly in the first place". Ms Grindley added: "Not building our homes properly throws needless future cost onto our community, whilst developers walk away with the profits."
Currently, there are difficulties with meeting the target Grade C energy rating. The majority of the houses in Britain were built before 1990, which means many houses are likely to have older gas boilers and poorer insulation compared to newer properties.
However, research from 2017 showed 33% of homes in Milton Keynes were new builds, meaning the city has become Britain's new build capital. With this in mind, new build properties often hold a 'New Build EPC' certificate, which they receive when they are built.
Many businesses are campaigning for better energy efficiency within homes, both old and new. There are many benefits of being efficient, with Peter Smith, Director of Policy and Research at NEA saying they include public health, air quality and lower pollution.
He continued: "People that have an income of 60% of the median income (equivalent to around £12,000) are often living in the most expensive homes to heat.
"Fuel poverty households living in the least Energy Efficient homes might be needing to find £2,000 above the average energy cost for the rest of the country. If we were to make improvements to their homes, the savings would be considerably more than outlined in your average savings. We are looking at something around £1,500, that's a life-changing amount.
It is estimated that residents in Milton Keynes with an EPC rating below Grade C could potentially save £163.63 on lighting, heating and water per year if necessary changes were made.
Milton Keynes Community Energy has issued the following advice to those in Grade D properties or below:
1. Check your loft insulation, if you have access to a loft, the insulation should be at least 300mm (12 inches) thick.
2. Fill cavity walls with insulation - all UK homes built after 1930 should have cavity walls. Those built in the 1990s should already have properly insulated cavity walls.
If you have solid walls (homes built before about 1930) they can be internally or externally insulated, but this is more complex and costly.
3. Turn your heating down by one or more degrees and wear warmer clothes if necessary
4. Make sure your light bulbs are LED (light-emitting diode), there are versions for almost all light fittings
5. Wash clothes at a cooler temperature (30 degrees) and dry them on the washing line when possible
6. Don't leave your heating or lights on unnecessarily when you are out.
7. Replace all your white goods when needed with high energy efficiency rated products (at least 'A+ or A++)
8. If you have an old gas boiler, more than about 15 years old, replace it with a modern condensing boiler.
After 2025 you will have to invest in low carbon heating system, such as an air source heat pump, a hydrogen or biomass boiler.
9. Solar panels (electricity-generating PV panels and solar water heating panels) no longer qualify for a government subsidy but may still be economically worthwhile and will reduce household carbon emissions.
10. Remember to turn your phone and computer chargers off once your devices have been charged - and don't leave your TV on standby
In response to the BBC's research, a spokesperson for the Department for Business, Energy and Industrial Strategy said: "Residential emissions have declined by 14% since 1990, but we need to go much further and faster to improve the energy performance of homes if we are to eliminate the UK's contribution to climate change completely by 2050.
"That is why we are investing over £6 billion to bring as many houses as possible up to EPC C by 2035 and, from next month, landlords will no longer be allowed to rent out the least energy-efficient homes. We are also exploring how to halve the cost of retrofitting properties and investing over £320 million into helping heat homes with lower carbon alternatives, such as heat networks and heat pumps."
Energy Saving Trust offers independent and impartial advice as to how to cut bills and reduce carbon emissions. Find out more here.