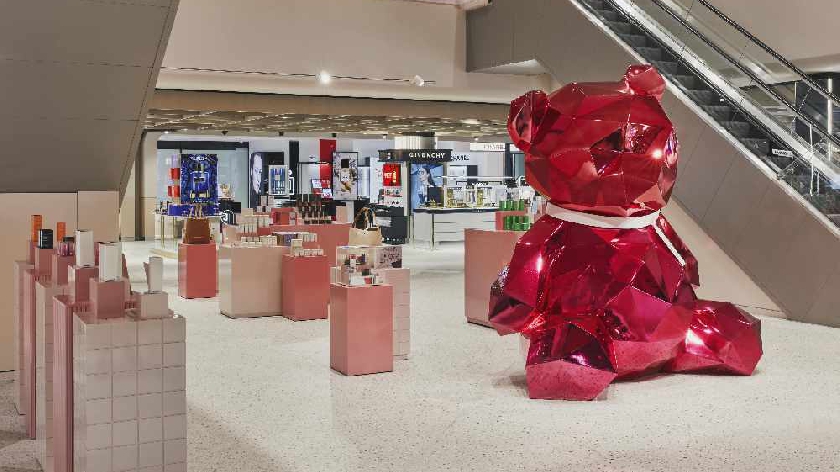 Harrods' biggest-ever concept store, called H Beauty, has opened in the centre:mk this morning (29/4).
The stand-alone beauty destination, located in the former House of Fraser unit, has premium brands, beauty services, and experiences on over 29,000 sq.ft. of floor space.
H Beauty's skincare offering showcases the sectors recent growth and innovation drive, and aims to have a product for every customer, regardless of the price point.
The store is framed by a series of dedicated boutiques by some of the biggest names in the industry, from Gucci Beauty's floral and instantly recognisable décor and Dolce & Gabbana's stylish beauty and fragrance offering to the luxury sunglass boutique, David Clulow.
Throughout the store, customers will discover the Playtable; providing access to dry hairstyling, makeup demonstrations and experiential product testing, the Skincare Station; offering bespoke consultations and treatments, and finally the Click & Collect boutique; available from 6th May, for customers who shop online at Harrods.com.
And from May 17th, when indoor dining can resume, H Beauty will open The Champagne Bar, which is a 44-seat social space with a menu of patisserie and cocktails created by Harrods' famous food and beverage team.
Annalise Fard, Director of Beauty at Harrods, said: "The latest H beauty opening at centre:mk marks another significant addition to the UK's beauty retail landscape and I am absolutely delighted to be creating an exciting new destination for our beauty community.
"As well as opening the most beautiful retail destination, we are so excited to be meeting beauty lovers and experts across the local community and bringing them into the H beauty family."
Take a look inside H Beauty...