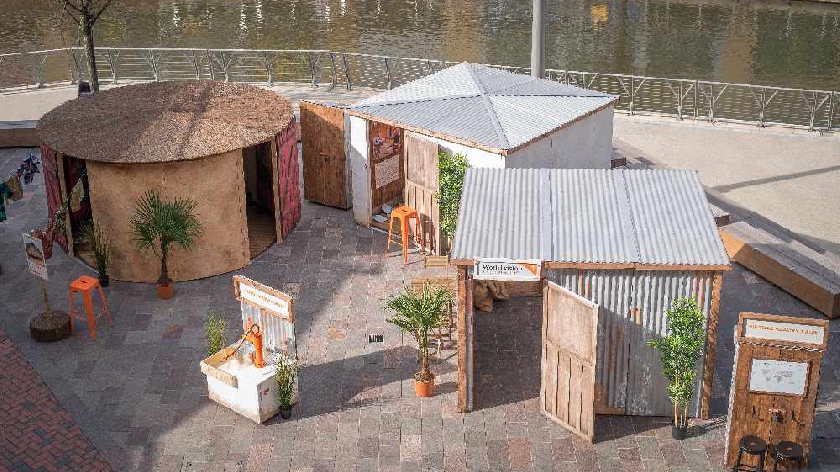 Milton Keynes charity launch new interactive experience connecting locals with vulnerable children in Sierra Leone. 
World Vision, the world's largest international children's charity, today announced the launch of a brand new interactive installation – Village of Hope. The exhibition opens its doors to visitors at Milton Keynes shopping centre, Centre: MK from Wednesday 30 May.
The unique interactive experience – developed by production agency, Scene 2 – recreates the village of 12-year-old Isata. Village of Hope gives shoppers a glimpse into the home of Isata and her family before and after the support of World Vision. A mud hut depicts life before, as Isata and her family struggled with poverty. Alongside that, a concrete structure reveals life now, following support from the Fox Milne-based charity.
Rural Sierra Leone is also bought to life through interactive experiences for children and adults alike, which gives a deeper understanding of real life for many poverty-stricken communities around the world. A water station gives the opportunity to pump water at the fully working water pump and feel the weight of a 25-litre jerry can. In addition, visitors can visualise the daily hardship of the children through a short virtual reality experience.

Graeme Newton, director of fundraising at World Vision UK said: "World Vision UK is very pleased to offer a brand new innovative new way for us to engage with the public in Milton Keynes. Village of Hope is an incredibly moving experience, as visitors get to realise first-hand what life is like for some of most vulnerable children in the world's hardest places."

He continues, "With the exciting addition of virtual reality, we look forward to providing a more immersive way for shoppers to share in these children's experiences for a few moments and learn more about our transformational work."

Visitors to the hut can join in with doing their bit to help through sponsoring a child like "Isata" – which will give the child and their community life-changing support such as the provision of nutritious food, clean water, healthcare, education and income generation schemes.

Visitors also have an opportunity to browse the range of truly life-changing Must Have Gifts. From mosquito nets, water treatment kits, to chickens and goats, these one-off special gifts for a loved one will go a long way in transforming lives in some of the world's poorest communities.