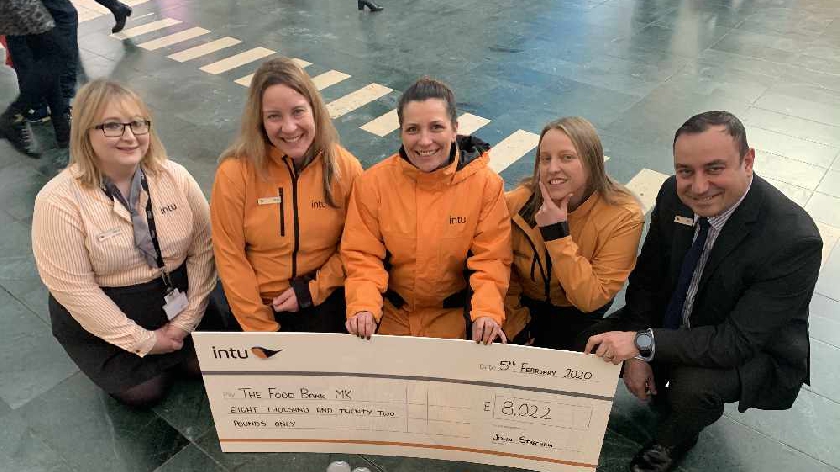 The local shopping centre raised over £8000 for the MK Food Bank in 2019.
The shopping centre collected money and donations. intu Milton Keynes also introduced a campaign throughout the Christmas period called the Festive Food Drop which raised £783, whilst collecting various food donations from shoppers.
The MK Food Bank and intu Milton Keynes say they are grateful for the donations given by the local community. intu Milton Keynes also donated £5000, providing the MK Food Bank with a grand total of over £8000 last year.
Caitlin Hands, Partnerships Manager at MK Food Bank, commented: "We have felt privileged to have been chosen as the charity of the year for 2019 at intu Milton Keynes. Our year together has been full of highlights including regular vortex collections and employee volunteering days at our warehouse. Receiving over £8000 from intu Milton Keynes has made a big difference to our capacity to operate and finish the year financially healthy. Along the way we have made some good friends at intu and will look to continue our good relations over the coming years. Thank you all so much!"
Shelley Peppard, general manager of intu Milton Keynes, said: "Our strong relationships with the local community and charities such as MK Food Bank enable us to bring about positive change. We are delighted that we have been able to help and that there has been a good impact on the local community and people who need the support."
Local volunteers and the team at intu Milton Keynes also contributed 89 hours to help pack food parcels, support with food distribution and provide general donation support in the warehouse for MK Food Bank in 2019.
The Food Bank relies entirely on donations of food and money from the community, as well as the support of its local volunteers.
Find out more about the MK Food Bank www.mkfoodbank.org.uk.