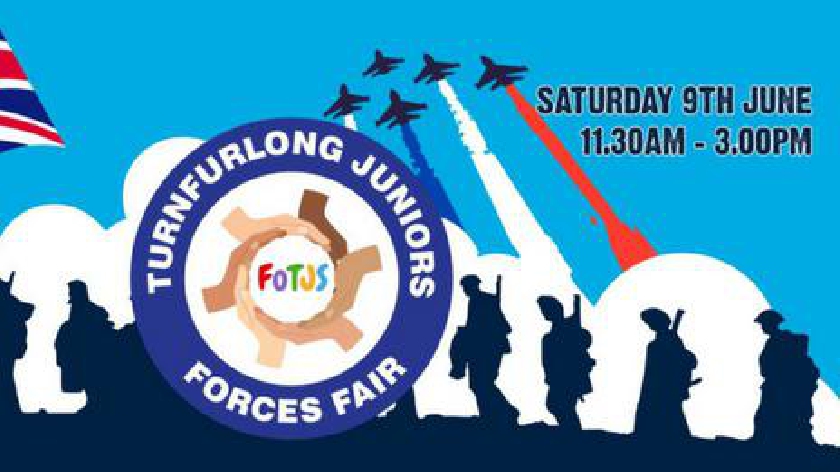 Michael Anthony's Fiat 500 at the 2017 event where the sun shone and a graphic outlining this year's theme.
Michael Anthony are delighted to be back supporting the Turnfurlong Summer Fayre on 9th June.
Summer is just around the corner. Longer days, strawberries and cream, barbecues and fayres are just some of the parts which help serve up a quintessentially British Summer. The fun runs from 11.30am-3pm. This year the Fayre will be celebrating the UK's armed forces.

Taking place on the school grounds, there will be activities for all the family. Michael Anthony will be back with its iconic Fiat 500 and also some great competitions – one for adults and one for children - to get involved with too.

They have a year's family membership at National Trust for the person who gets nearest in the "Guess the price of the property in 1984". Get your best guesses ready for the property located in the Turnfurlong area. Meanwhile, children will be tempted to guess where their Fiat 500 is on a map. The contestant who gets closest will win some vouchers for a toy store.

Furthermore, there will be abundance of event, stalls and activities for the family, including:
Soak the teacher
Children's and adult's tombola
Funky photo booth
Raffle
Bouncy castle and assault course
Year 6 students from the school will be hosting their enterprise stalls
Plants, books, tools and uniforms for sale
Choir, African drummers, orchestra and rock band
Foot and drink all available; BBQ, tasty cakes, biscuits and treats.
There's also the adult only alcohol tent
Battleship game – flip a coin and you could win a prize
There's also the intriguing human fruit machine!

Senior partner, Michael Donnachie says, "The Turnfurlong Summer Fayre is a wonderful event that involves the whole community. We enjoy being part of it; the colour, the spectacle and the entertainment means everyone can take part in the proceedings. Fingers crossed the weather is as good as it was in 2017 so lots of people make it to the event. We're really looking forward to it. See you from 11.30 on the 9th June!"