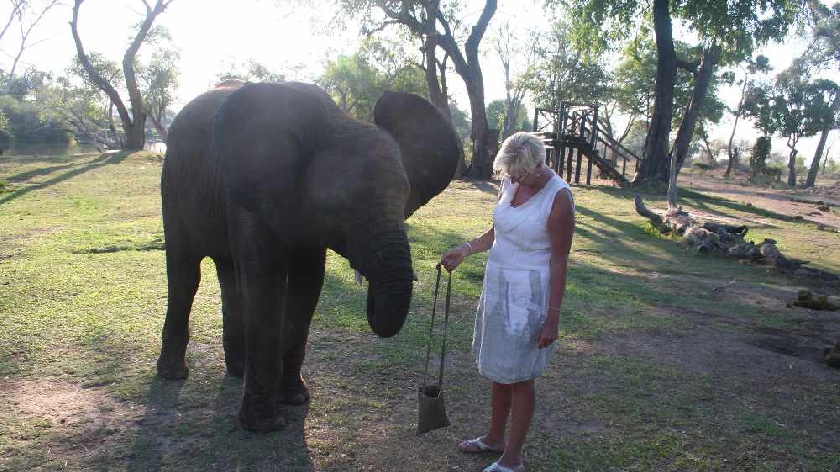 Willen Hospice CEO, Peta Wilkinson feeding an elephant on one of her previous adventures.
Willen Hospice has announced details of its next incredible overseas challenge, taking place in October 2019.
The Borneo Jungle Adventure will be a ten day trek through the rainforest, where explorers will camp in remote villages, see amazing wildlife and even meet orangutans.
Willen Hospice CEO, Peta Wilkinson, was the first to sign up for the adventure, which leaves the UK on 11 October. She said: "I'm so excited to be taking part in this challenge and spending time with other Hospice supporters. I love overseas travel and this challenge is a fantastic way to see this incredible island and a great way to challenge yourself to learn new skills, meet new people and so importantly, raise money for your local Hospice."
Willen Hospice are working with travel specialists Different Travel to plan the adventure to the North of Borneo, the third largest island in the world and a land of incredible natural beauty and diversity.
The challenge will take trekkers off the beaten track on jungle paths, through paddy fields, rubber plantations, fruit orchards and rivers. Experienced guides will teach jungle survival skills such as identifying edible fruits and foods and making traps, and a deeper understanding of the complex ecosystem.
Willen Hospice needs to raise £4.7 million a year from the community; that's £9 every minute of the day, to ensure it can continue to provide specialist end-of-life care to patients, and support to their family members.
The adventure is open to anyone over 18 with a good level of fitness. To find out more about the adventure, including costs and sponsorship requirements, please visit www.willen-hospice.org.uk/borneo