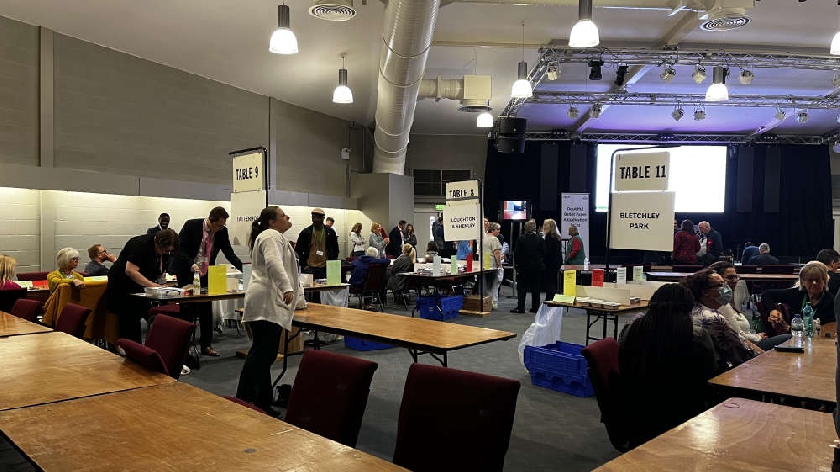 Image: MKFM
Milton Keynes Council is expected to remain as 'Progressive Alliance', a Labour and Lib Dem coalition, following local election results.
One third of Milton Keynes' Councillors are elected each year on a three-year rotation. This is then followed by a year with no local election. During 2022's local elections- there were votes up for all 19 Borough Wards, with one vacancy in each ward.
As results have now been concluded for each ward, the Conservatives have lost two seats to Labour, but remain the largest party.
Conservatives sit on 23 seats, Labour, 20, and Lib Dems, 14.
29 seats are needed for the majority.
Similarly to 2021, despite Conservative Group being the largest party, Labour and the Lib Dems together hold the most amount of seats.
Last year, following lengthy discussions, it was decided that Labour and Liberal Democrats would form a 'Progressive Alliance' to run a majority administration on the Council.
The biggest lost for the Conservatives was within the Bletchley Park ward.
See the full election results below:
BLETCHLEY PARK - Labour candidate Nigel Long is elected
Griffiths, Sarah Rhiannon LIB DEM - 219
Long, Nigel Matthew LAB COOP - 1744
Rankine, Allan Roy CON - 1672
Sheppard, Michael John GREEN - 196
Electorate:11148
Turn Out:3842 (34.45%)
Rejected Papers:11
BRADWELL - Liberal Democrat candidate Rex Exon is elected
Exon, Rex LIB DEM - 1769
Khan, Shadat Jaffar LAB - 761
Panthula, Krishna Murthy CON - 535
Electorate:9539
Turn Out:3083 (32.32%)
Rejected Papers:18
STONY STRATFORD - Labour candidate Jennifer Wilson-Marklew is elected
Greenwood, Richard Michael LIB DEM - 285
Lewis, David Anthony GREEN - 247
Sharma, Rajeev CON - 1518
Wilson-Marklew, Jennifer Mcelvie - LAB - 2295
Electorate:11551
Turn Out:4363 (37.77%)
Rejected Papers:18
NEWPORT PAGNELL SOUTH - Liberal Democrat candidate Andy Carr is elected
Brown, Stephen Michael LAB - 520
Carr, Andy LIB DEM - 1620
Kayani, Yusrah CON - 1068
Electorate:9027
Turn Out:3233 (35.81%)
Rejected Papers:25
LOUGHTON AND SHENLEY - Labour candidate Shanika Mahendran is elected
Clark, Stephen LIB DEM -
Mahendran, Shanika Caitlin LAB COOP -
Taylor, Dominic John GREEN -
Wilkinson, Ethan Ronan CON -
TATTENHOE - Conservative candidate Fathima Muzammil is elected
Bjorck, Lucy Rebecca GREEN - 268
Malik, Rukhsana Kossier LAB - 990
Muzammil, Fathima Shazna CON - 1167
Walden, Steven LIB DEM - 248
Electorate:8644
Turn Out:2695 (31.18%)
Rejected Papers:22
BLETCHLEY EAST - Labour candidate Mohammed Khan is elected
French, Joe GREEN - 256
Khan, Mohammed Delwar LAB - 1607
Marlow, James Richard Alan CON - 951
McCabe, Sean Douglas LIB DEM - 275
Electorate:12124
Turn Out:3104 (25.61%)
Rejected Papers:15
BLETCHLEY WEST - Labour candidate Mick Legg is elected
Adewale, Ben LIB DEM - 167
Brady, Ray IND - 172
Legg, Mick LAB - 1834
Michael, Godwin Antony CON - 1418
Segebrecht, Axel GREEN - 141
Electorate:10458
Turn Out:3743 (35.79%)
Rejected Papers:11
WOLVERTON - Labour candidate Robert Middleton is elected
Francis, Alan Herbert GREEN - 424
Middleton, Robert James - LAB AND COOP - 2051
Portilho, Thais LIB DEM - 177
Street, Jonathan Sam CON - 781
Electorate:10826
Turn Out:3446 (31.83%)
Rejected Papers:13
OLNEY - Conservative candidate Peter Geary is elected
Bethune, Dee LAB - 746
Brown, Ben INDEPENDENT - 804
Geary, Peter James CON - 1620
Rose, Catherine Jean GREEN - 850
Electorate:9662
Turn Out:4034 (41.75%)
Rejected Papers:14
WOUGHTON AND FISHERMEAD - Labour candidate Amber McQuillan is elected
McQuillan, Amber Teagan LAB - 1689
Roy, Raissa LIB DEM - 240
Vassilakis, Tatiana CON - 488
Electorate:11467
Turn Out:2437 (21.25%)
Rejected Papers:20
DANESBOROUGH AND WALTON - Conservative candidate David Hopkins is elected
Belcher, Veronica LAB - 918
Cave, Rebecca Ann LIB DEM - 401
Hopkins, David George CON - 1764
Skelton, Peter William GREEN - 451
Electorate:10612
Turn Out:3551 (33.46%)
Rejected Papers:17
NEWPORT PAGNELL NORTH AND HANSLOPE - Conservative candidate Liam Andrews is elected
Andrews, Liam Jack CON - 1655
Lloyd, Gary Nicholas GREEN - 247
Oyakhire, Tony LIB DEM - 653
Whild, Jane Deborah WOMEN'S EQUALITY PARTY - 214
Wood, Carol Ann LAB - 768
Electorate:9812
Turn Out:3555 (36.23%)
Rejected Papers:18
CENTRAL MILTON KEYNES - Central Milton Keynes: Labour candidate Moriah Priestley is elected
Houchin, Russell Frederick LIB DEM - 508
Imran, Haider Kabeer CON - 646
Priestley, Moriah Nkechinyere Adaku LAB - 1365
Electorate:10160
Turn Out:2545 (25.05%)
Rejected Papers:26
CAMPBELL PARK AND OLD WOUGHTON - Liberal Democrat candidate Nana Oguntola is elected13:09 - Next lot of results coming through
Durugo, Christian Uzoma Chinedu LAB - 715
Oguntola, Nana LIB DEM - 1712
Hearnshaw, John Howard CON - 1404
Electorate:9887
Turn Out:3851 (38.95%)
Rejected Papers:20
MONKSTON - Monkston: Liberal Democrat candidate Jennifer Ferrans is elected
Ferrans, Jennifer Margaret Patricia LIB DEM - 1540
Petchey, Martin Ronald LAB - 521
Tamagnini, Jaime CON - 596
Electorate:9142
Turn Out:2671 (29.22%)
Rejected Papers:14
STANTONBURY - Stantonbury: Labour candidate Naseem Khan is elected
Duffield, Greg LIB DEM - 292
Edwards, Peter GREEN - 333
Khan, Naseem LAB - 1840
Wright, Babs CON - 1521
Electorate:11153
Turn Out:4007 (35.93%)
Rejected Papers:21
BROUGHTON - Broughton: Liberal Democrat candidate Sam Croons is elected
Ahuja, Dev CON - 1269 votes
Crooks, Sam LIB DEM - 1971 votes
Dowling, Monica Stella LAB - 615 votes
Turn Out:3869 (30.26%)Electorate:12787
Rejected Papers:14
SHENLEY BROOK END - Shenley Brook End: Liberal Democrat candidate Peter Cannon is elected
Adeliyi, Ade CON - 1113 votes
Cannon, Peter Paul LIB DEM - 1487 votes
Nayee, Akash LAB - 610 votes
Electorate:9552
Turn Out:3240 (33.92%)
Rejected Papers:30