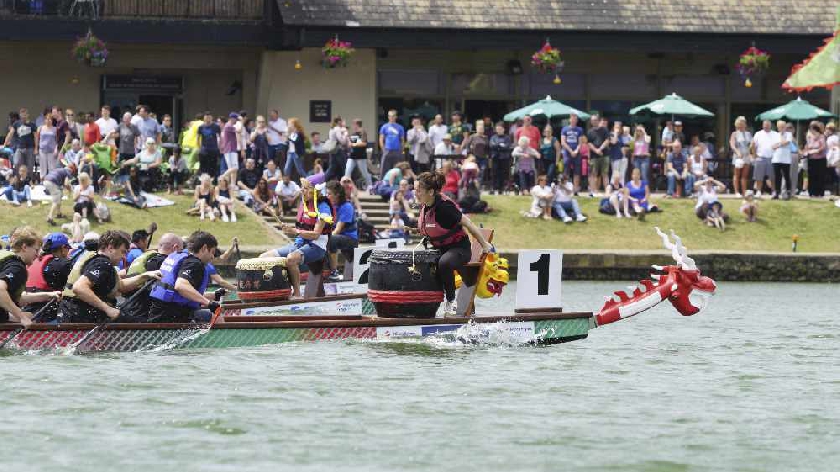 In a few weeks time, Willen Lake in Milton Keynes will reverberate to the sound of beating drums and there is still time to get your team together and join in the fun.
The Milton Keynes Dragon Boat Festival, supported by Business MK and MKFM, celebrates its 17th anniversary on Saturday 23rd June and around half the teams that take part each year are new - so why not join them on the start line?
All the entered teams this year are being encouraged to raise sponsorship for MacIntyre, a national charity based in Milton Keynes that supports over 1,500 children, young people and adults who have a learning disability or autism. To make the most of their Festival partnership, MacIntyre are also having a team in this year's event.
Events & Corporate Fundraiser, Jessie Easterby explains how they plan to participate fully in the day and how they will benefit, "This is a brilliant way for us to work together and have a laugh with our colleagues. Lots of the people we support are also very excited to take part, whether that is through volunteering, paddling in the boat, helping with our catering tent or simply watching; and this is at the heart of MacIntyre, to give the people we support new and exciting opportunities, and to involve everyone in any way we can. As the Festival's new charity partner we want to experience all aspects of the event and get stuck in with the rest of the teams. Some of us are in it to win it, and others are just looking forward to a great day out."
Over 40 crews have already booked their place on the start line and finding the right name for the crew is essential – KPMG have plumped for "Row Hard or Row Home" whilst Frost Landscapes two teams are "Tree Huggers" and "Niff Naff n Triv". Interserve are clearly not too hopeful as they have named their team "Intersink".
The dragon boats, qualified helms and all racing equipment are provided by organisers Gable Events and each crew is guaranteed a minimum of three races. No previous experience is needed to take part and everyone has a chance to be a winner. Medals and trophies are up for grabs for the top three crews, top mixed crew and the 'best dressed' crew. The top fundraisers for MacIntyre will win the Charity trophy plus a special prize meal, sponsored by Merinvest, at highly rated Melis Restaurant in Central Milton Keynes – a great incentive.
As well as the dragon boat racing, crews and their families will be able to enjoy a whole variety of bankside entertainment including a funfair, inflatables, food stalls - and even a special flypast by a Dakota aircraft, one of the most iconic aircraft from military history.
For further information and an entry form visit: www.dragonboatfestivals.co.uk/miltonkeynes or call Gable Events on 01780 470 718. For information about MacIntyre, visit www.macintyrecharity.org or call 01908 230100