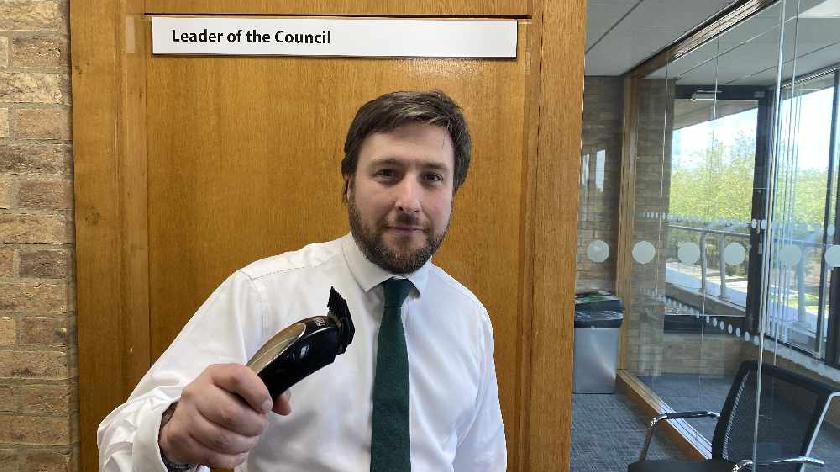 Leader of the Council, Cllr Peter Marland, is pledging to shave his head to raise vital funds for a children's hospice that supports children and families in Milton Keynes and surrounding areas.
Due to lockdown and the continued closure of barbers and hairdressers, like others all across the country Cllr Marland hasn't had a haircut since January. He has now pledged that if he can raise £1500 for Helen & Douglas House Children's Hospice he will get the clippers out for charity.
Helen & Douglas House, based in Oxford, provides specialist palliative and end of life care to children, including those from Milton Keynes. They care for children and young people up to the age of 18 at both their Hospice and through their outreach service and are reliant on fundraising to continue to provide their vital services and support. Cllr Marland is now a trustee of the charity after a close family member died there 6 months ago today.
Like most other charities, Helen & Douglas House's income from fundraising has been heavily hit by the Covid-19 crisis and the restrictions on gatherings and cancellation of community and fundraising events.
Cllr Marland said: "Helen & Douglas House provide vital care and support to families when they need it the most. Their specialist team are incredible and they need support now more than ever.
"It's been inspiring to see the creative ways that people in MK and around the country have continued to support their favourite charities during lockdown. Whether that be taking on garden marathons, running virtual quiz nights and of course Captain Sir Tom Moore completing his 100 garden laps, so this is a little something I can do to support a charity close to my heart.
"I'll be delighted if I can hit my fundraising target as I know this will make a real difference to the children and families that Helen & Douglas House support at this difficult time."
You can visit Cllr Marland's JustGiving page here: www.justgiving.com/fundraising/petemarland