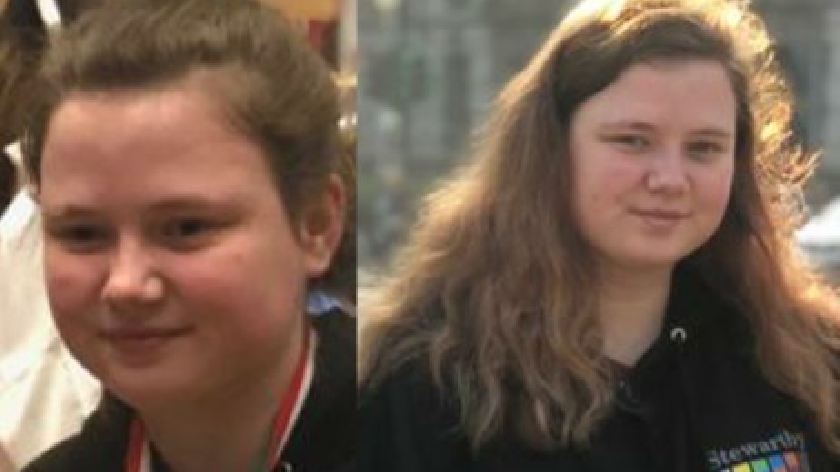 Thames Valley Police are again appealing for information and witnesses as the first anniversary of Leah Croucher's disappearance approaches.
Leah, aged 20, was last seen on CCTV in Buzzacott Lane in Furzton, just after 8:15 am on Friday 15 February last year, walking in the direction of Loxbeare Drive and Chaffron Way.
She was last seen by her family at 10 pm the day before, 14 February, at their home in Emerson Valley.
One year on, there is still no sign of Leah. There has been no activity in her bank account, her phone is off and she has not made any contact with family or friends.
Posters with Leah's face on can be seen on bridges, bus stops, shop fronts and in cars throughout Milton Keynes. Her disappearance has shaken the local community, with residents wanting to raise awareness in whatever way they can.
John Croucher, Leah's father, said: "The support has been fantastic but we just need to keep it going. Obviously a year on it's going to start waning a bit, but we need to keep it up.
"Obviously the posters have started to blow away and come down, we put them back on the bus stop and two days later they come down. They're cleaning them up now. How do you keep it going when they're being taken down?"
Thames Valley Police are continuing to appeal for witnesses and any possible information that may help locate Leah.
It has also been announced today (14/2) that the reward money has been doubled to £10,000. This will be given to anyone who has information that directly leads the police to Leah.
Detective Chief Inspector Andy Howard, Senior Investigating Officer, said: "Leah has a network of friends, family, associates. I do believe that someone within that network has some information around Leah's state of mind, her plans, her intentions, her thoughts, what was going on in Leah's life at that stage which they haven't yet told us about.
"To them, it might seem really small, but to us it could be the piece in the jigsaw that helps us find Leah."
Leah's family say they have tried to remain positive throughout the past year, however, they have stated that their hope has started to "waver a little".
Her mother, Claire, believes that somebody out there knows what happened to Leah, and holds them responsible for the subsequent suicide of her step son, Haydon. She said: "And because of whoever took Leah we've lost Haydon as well, we've lost two children now. How much more do they want us to suffer? Why do they hate us so much that they've put us through this by keeping quiet? They should do the decent thing and come forward."
The investigation is still ongoing. In the past year, Thames Valley Police have received over 550 reports of information/potential sightings and have completed over 390 separate search tasks.
Detective Chief Inspector Howard continued: "As time goes on, naturally, the levels of information that come into the investigation become less and less and less frequent.
"However, whilst there are active lines of inquiry we will remain absolutely committed and the investigation will remain open. We will not stop looking for Leah until we find her."
Leah is white, slim, with below shoulder-length brown hair and sometimes wears glasses. She was last seen dressed in a distinctive grey Stewartby Taekwondo hooded jumper, a black coat, skinny black jeans, black Converse high top shoes and carrying a small black rucksack.
Information can be left on TVP's website dedicated to finding Leah: https://mipp.police.uk/operation/43H218A55-PO1/
Alternatively, you can call 101 or visit a police station, quoting investigation number 43190049929.
READ MORE: Interview with Jade Croucher- sister of missing teen Leah
READ MORE: The brother of missing woman Leah Croucher has died nine months after her disappearance, their father has said